After an extremely well deserved break, Liverpool will begin their pre-season in earnest this week with two fixtures against Premier League opposition.
On Tuesday the Reds face Man United in Bangkok, and a few days later head to Singapore to face Crystal Palace.
The reigning FA and League Cup holders have been their normal efficient themselves in getting their transfer business done.
While they have lost a big member of the squad in Sadio Mane along with domestic cup specialist Taki Minamino, the hope is the addition of Darwin Nunez from Benfica will play a big part of future success.
One of the most admirable and in some ways underrated aspects of the current club set-up is their ability to cast a eye to the future.
When you are riding high in the table winning honours, it's very easy to become complacent and live in the moment, with no pathway for what comes next.
Among many things, that is something that has led to the downfall of Man United in the post Alex Ferguson era and Chelsea have lacked a future vision to some degree too.
But Jurgen Klopp and his back room staff know that the planning for the next phase takes times and while signings like Calvin Ramsey from Aberdeen and Fabio Carvalho from Fulham might not be headline grabbing at this stage, they have the ability to grow and become vital pieces in time.
The manager spoke to the Official site of his delight in adding the pair to the squad. 
"Fabio, wow, what a season he played with Fulham. Getting promoted [with a] football-playing [style], properly football-playing, is not easy.
"So, Marco Silva obviously did an incredible job there, but a big part of that was absolutely Fabio. And Harry Wilson obviously, our former [player], and Neco [Williams] of course.
"When we watched him it was a pure joy to watch him, absolutely. He can play so many different positions for us, the way we play. At the minute he's not really set on one position – it's the wing, it's the eight, it's the 10, it's the false nine if he grows a few more muscles.
"It's a short-term and a long-term project; he can start tomorrow and he needs to adapt, you can see that a little bit, but when he has the ball that's proper quality. I'm over the moon that he's here. Fantastic prospect."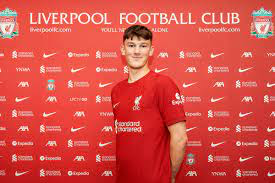 With the Scottish U/21 international, it is set to be a slower process with Klopp confirming that he is suffering from a slight injury which needs proper treatment. 
Nonetheless he is very excited about the skill-set of the 18 year-old.
"Unfortunately, Calvin is now not training with us in the moment, he has a little injury. Nobody knew, we found it when he did his medical check. Until today he has no problems but the medical department tells us if we don't take care for that now, he will have a problem in the future.
"So, when you are that young then of course he has a long career ahead of him, so we are very responsible in these moments, so he didn't train yet with the team but is doing a lot of fitness work. So, it will not take too long I think.
"So I didn't see him yet in training but everything we saw about him, we heard about him, I heard from him: a fantastic boy. And what a player he is, what he did for Aberdeen last year, absolutely exceptional.
"In his age group and you know the things we need from a full-back, he is as close as it gets to the things we want and is still a kid. So we really expect a lot from him in the long term."