Trent Alexander-Arnold has become the latest of a growing list of Liverpool players to commit their long term future with the club.

The good news comes just a few days after fellow full-back Andy Robertson signed a extension for a similar length of time, believed to be five years.

The 20 year-old Academy graduate has been somewhat of a revelation since becoming a full time member of the first team squad at the start of last season.

Alexander-Arnold has refused to let his inexperience be a detriment to his development, tacking the biggest challenges in the game head on, be it a Champions League final or on the centrepiece of international football - The World Cup.

The joy of signing the new deal was evident in Alexander-Arnold's reaction.

The Official website reported the youngster as saying:

"I'm ecstatic and really proud.

"I feel privileged to have the support and the trust the club has in me to offer me a new deal. 

"There was no doubt in my mind to sign and extend the years I have with the club. Hopefully we can achieve a lot of success in those years.

"As soon as they offered the contract, there was no hesitation whatsoever. 

"The thing that made it easiest for me was having the people around me to make sure I was able to focus on football as much as possible and get the deal done as soon as possible.

"That is down to my brother especially, my manager, who took that role and allowed me to focus on football and not get distracted, which is the main thing."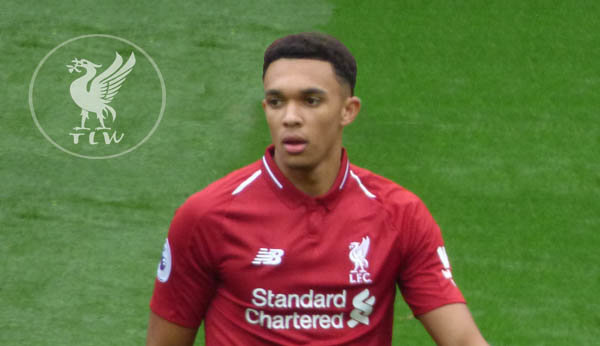 Over time the announcement of a key player re-signing has come as a relief to fans, but you haven't really been able to read too much into their inner thoughts.

Their comments have been pretty stock standard and to the point.

In contrast, when you read the quotes from this current squad of players, it is entirely evident how much joy and overall excitement they have playing for this team.

Something special is going on at the club and they all want to be part of that.

Alexander-Arnold eluded to his whirlwind past year and a half.

"The last 18 months especially have been very special. Hopefully the next 18 months and even further on than that will be even more special."

The average age of Alexander-Arnold,  Robertson and Joe Gomez is not even 22.

While Alisson (26) and Virgil Van Dijk (27) are certainly well and truly still in their prime, and with that, it appears the best years of this defensive group is still ahead of us.

Exciting times for all concerned.