After a very disappointing 1950s Everton were fortunate to attract the interest of the Moores family around the turn of the decade. Manager Johnny Carey was given as much cash as he needed and guided them to 5th in 1960-61. Yet John Moores was not satisfied with this progress and famously sacked Carey in the back of a London taxi on the way back from a meeting at the FA. He was replaced by Harry Catterick, a dour man who looked more like an undertaker than a football manager and made his players clock in at Bellefield every morning.

Catterick took Everton to 4th in 1961-2 and 1st in 1962-3. But they were one of the most unpopular title winning sides ever. Dubbed the 'cheque book champions', they effectively bought who they wanted, a bit like Chelsea today. A massive £175,000 was spent in 1961-62 alone, more than double what Bill Shankly had spent in two and a half seasons getting Liverpool out of the second division.

That season they made their European bow but didn't even make it across the English Channel, losing 2-1 on aggregate to Dunfermline in the Fairs Cup. This remains the only occasion when a Scottish side has overturned a first leg deficit to beat an English side.

Everton's lack of popularity wasn't helped by the behaviour of their fans, who were developing a reputation for hooliganism a decade before it became a widespread problem. In 1961-2 there were several incidents when the Blues travelled to Burnley. Clarets keeper Adam Blacklaw was hit by a bottle and sixteen away fans were ejected from the ground, with many people in the town before the game said to be in terror.

This left such a scar that when Everton were drawn to play Burnley or Orient in the FA Cup, a local councillor called Cassidy said Burnley folk would rather they lose their replay than face the consequences of another Everton visit.

Back on the pitch, in 1963-4 the Mersey pendulum swung as Liverpool romped to the title in only their second season after promotion, leading to an unprecedented bout of blue bitterness. The Reds secured the championship with four games remaining by beating Arsenal 5-0 in their final home game. But there was to be no parading of the championship trophy at Anfield as Everton refused to hand it over to the Football League because the season's fixtures hadn't been completed.

Everton's petulant behaviour probably began a week earlier when it was revealed that their star player Tony Kay was party to a betting scam whilst at Sheffield Wednesday. This led to him being suspended from football immediately and he later received a prison sentence and a life ban.

Everton spent the next five years in Liverpool's shadow. They were never out of the top four in the league but the Reds would always upstage them. In 1964-5 they finished fourth, only for Liverpool to win the FA Cup. They did beat Liverpool 4-0 at Anfield that season, only for the Reds to win the fixture 5-0 in 1965-6.

The FA Cup remained on Merseyside as Everton won it in 1966, but Liverpool still held the upper hand by winning the league. Both sides were in Europe frequently, but whereas Liverpool reached the semi finals of the European Cup in 1965 and final of the Cup Winners Cup in 1966, Everton never made it past the third round.

Then as Shankly's team began to age Everton won the title in 1969-70. They achieved 66 points, just one short of Leeds record that was set a year earlier. The destination of the championship trophy was never in doubt after they won fifteen out of their first eighteen games, but the Goodison derby still brought about embarrassment. Shankly's team, which would be broken up less than three months later, beat Everton 3-0 in a game that will forever be remembered for Sandy Brown's classic own goal.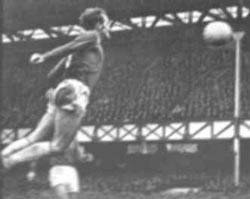 Is it a bird? Is it a plane? No, it's Sandy Brown!

They also failed to get the hang of competing in two competitions at the same time, as second division Sheffield United knocked them out of the FA Cup in the third round. They may have finished the decade as top dogs, but their stay at the top would be short lived.