Everton won the last league championship before World War 2, but had a turbulent time when peace resumed as the title winning side broke up. Star man Tommy Lawton moved to Chelsea and the influential Joe Mercer went to Arsenal.

Liverpool won the title in 1946-7 and to rub salt in the wounds, Everton were playing a game at Anfield when we were confirmed as champions. While the Liverpool Senior Cup final was being played, it was announced that Stoke had lost to Sheffield United meaning that Liverpool couldn't be overhauled at the top of the table. As the home fans celebrated Evertonians didn't even have the local cup as consolation, as Liverpool won the final 2-1.


After propping up the table for the opening months of 1948-9 Everton sacked manager Theo Kelly. He had never been liked by the players who were rarely happy with his contract offers. On one occasion he was punched to the ground by an enraged Dixie Dean after the great goalscorer was offered derisory terms.

The arrival of Cliff Britton led to a slight improvement in fortunes and they eventually finished 18th. The next season they finished 18th again, a 3-1 victory over Man City on the last day ensuring they stayed up. They had hovered around the relegation zone all season, the low point being a 7-0 defeat at Portsmouth.

Relegation to the second division finally came around in 1950-1. After being bottom in December, they rallied with 4 wins from 5 games over Christmas and at the end of February were comfortably placed in 15th. Then 9 games without a win took them right into the mire again but Everton's fate was still in their own hands on the last day of the season. All they needed to do was draw at already relegated Sheffield Wednesday, but a 6-0 defeat condemned them to the drop.

There was to be no quick return to the top flight and a fall into the third division looked on the cards at one point in 1951-2 as they struggled to adapt to the new surroundings. A 5-1 home defeat to Notts County was a particular nadir but they rallied to finish 7th. The FA Cup brought about embarrassment again when Leyton Orient of the fourth division knocked them out at Goodison.

1952-3 brought about Everton's lowest league placing ever when they finished 16th in the second division, a position Liverpool have never sunk to. The most embarrassing moment was an 8-2 defeat at Huddersfield, when one of the Terriers players scored 4 headed goals, one of only a handful of occasions where this has ever happened. They made up for their worst ever league season by reaching the semi finals of the FA Cup where they faced Bolton at Maine Road. Everton staged a remarkable comeback, pegging the score back to 4-3 after being 4-0 down, only for Tommy Clinton to miss a penalty that would have brought the scores level.

The following year Everton came up as Liverpool went down to the second division and there was a great opportunity to rub the Reds noses in it when the two sides were paired together in the 4th round of the FA Cup in 1954-5. But the Reds, who hadn't won an away game all season, went to Goodison and triumphed 4-0. This remains Everton's biggest post war cup defeat in any of the knockout competitions.

The 50s were a bad time for Merseyside football. Liverpool languished in the second division while Everton remained in the lower half of the first. They got off to a woeful start in 1958-9 when they lost their first 6 games, including a 6-1 home defeat to Arsenal. They won 4 out of their next 5 then were brought crashing back to earth with a 10-4 hammering at Spurs, the only time a Merseyside team has ever conceded double figures. Eventually they finished 16th.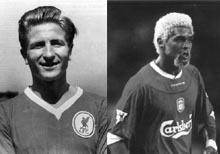 Selling Dave Hickson to the reds wasn't the greatest piece of business ever
conducted by the blues, but they would gain their revenge years later
with (Un)Abel Xavier

1959-60 brought about a big transfer own goal when Dave Hickson was sold to Liverpool. Despite being surplus to requirements and having been a great Goodison servant, they still demanded £15,000 for him, twice what they had paid for him just over two years earlier. A compromise was agreed and he made an immediate impact at Anfield with 2 goals on his debut but on the same day Everton lost 8-2 at Newcastle.

The decade then came to a close with another embarrassing FA Cup defeat, 3-0 at third division Bradford while across the park, a new manager arrived who would change the balance of power on Merseyside forever.