Everton had sneaked the league title in 1915 while most other teams players were away fighting for King and Country. But they faced an uphill struggle when competitive football resumed in 1919-20, finishing 16th and going out of the FA Cup to 2nd division Birmingham.

In 1920-1 things got off to a better start and Everton were top of the league when the Merseyside derbies came around in October. However Liverpool won 1-0 at Anfield then 3-0 at Goodison a week later, marking the beginning of a slump that would eventually see the Blues finish 7th. The following season Everton only narrowly avoided relegation, finishing 20th and to compound this misery Liverpool were champions. There was also humiliation in the FA Cup as Crystal Palace of the 2nd Division thrashed them 6-0 at Goodison.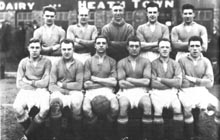 The Borstal of Science
Although Everton improved to finish 5th in 1922-3, the Reds were again champions and there was not even any respite in the derby games, as Liverpool triumphed 5-1 at Anfield and 1-0 at Goodison. Everton were also on the wrong end of a 5-1 scoreline at Blackburn, where they conceded 4 goals in a 5 minute spell. There was also embarrassment in the FA Cup with a 1-0 defeat to 2nd division Bradford.

The FA Cup continued to prove problematic for Everton in 1923-4 when they were beaten 5-2 at Brighton. This was the 5th successive season in which they had been knocked out by lower division opposition. But help was on the way in the form of Dixie Dean who was signed for £3,000 from Tranmere in March 1925. He made an immediate impact and scored in 2 of his 7 games that season followed by 33 in 1925-6. But that FA Cup was still posing problems as they went out in the 3rd round to 2nd division Fulham

Despite having great individual talents such as Alec Troup and Dixie Dean, Everton failed to gel as a team and were nearly relegated in 1926-7. They looked odds on for the drop following a 7-3 defeat at Newcastle in March, but won their next three games to earn a fighting chance. Survival was assured with a 2-2 draw against Villa in their penultimate game.

Then in 1927-8 everything clicked into gear, with Dean hitting an astonishing 60 goals as Everton won the league. However remarkable as Dean's feat was, he was aided by changes to the offside rule that had been introduced in 1926 and caused great deals of confusion amongst defenders, leading to many more goals. Although Dean was in prolific form, there were still times when the team struggled and Everton won just two out of twelve games between January and March.

Not surprisingly, rather than build on this title success Everton slumped the next season and finished 18th. Then in 1929-30 they achieved the remarkable feat of being relegated just two years after winning the league. Everton never looked like avoiding the drop and finished rock bottom, 4 wins in their last 5 matches coming too late to save them.

Everton managed to return immediately to the top flight with few hiccups and just to prove their schizophrenic status won the league in their first season back, 1931-2. Even then an unwanted record was set as they lost 12 games, the most ever by a title winning side. These defeats also included a 4-0 reverse at Birmingham and 3-0 loss at Derby. There was also an early FA Cup exit as Liverpool won 2-1 at Goodison in the 3rd round.

Cup success finally came in 1932-3 when Man City were beaten 3-0 in the final at Wembley. But in the league there was no repeat of the previous seasons title win as Everton finished 11th. There was a humiliating 7-4 defeat at Anfield, the score only being made to look semi respectable with a 90th minute strike by Stein.

After the heady days of league and cup success in successive seasons, Everton faded back into obscurity as Arsenal became the dominant force in the game. Results were up one minute and down the next and it showed over two successive Christmases. In 1933 they won 2-1 at Newcastle on the 25th then lost 7-3 at home on the 26th.

The following year they had trouble with the North East again, beating Sunderland 6-2 at Goodison on the 25th only to lose 7-0 at Roker Park the next day. Liverpool, who were mediocre themselves, still managed to win five successive Anfield derbies, including a record 6-0 win in 1935-6, when Fred Howe scored 4 goals.

Dean was coming to the end of his career in the second half of the decade and Tommy Lawton was signed from Burnley in the summer of 1936 to be groomed as his successor. This changeover happened in 1937-8 but the man who had served Everton so well for so long was treated disgracefully. He was left to languish in the reserves as Everton refused to cancel his contract, instead waiting till a team was prepared to pay £3,000 for him, exactly the fee he had cost when he joined from Tranmere.

When he eventually left for Notts County he had played 399 league games for the club but was denied an emotional send off in a 400th game. Dean was probably treated like this as he stood up for players rights, which were minimal in an age when club directors treated them with the contempt of Victorian freak show performers. But the fact he got himself banged up on a German tour for assaulting a police officer, punched a fan at Spurs and went AWOL from a Spanish tour probably didn't help either.

Then after finishing 16th, 17th and 14th in successive seasons Everton surprised everybody by winning the league in 1938-9 with the team that spawned the phrase 'school of science'. Despite finishing 4 points clear of Wolves, they still managed to lose 7-0 when the teams met at Molineux. Much to the chagrin of Evertonians today that rednosedbastard Hitler then intervened and invaded Poland, thus ensuring that they would never be able to go on and achieve more honours.