---

0730: Alarm goes off. Throw off the Union Jack covers and head for the shower.
0732: Notice that the bathroom is gleaming. Good effort from her, even the toilet is sparkling.
0750: Get out the shower and the missus has a brew ready for me. Tastes funny; almost a bit salty. She's been buying different tea since around the time of that thing with Bridgey's ex, she says it's Lord Gray tea or something, and that it'll grow on me. Not sure. 
0752: Go to brush my teeth but my toothbrush smells odd and tastes bad. Weird.
0815: See on the news that it looks like Redknapp's lawyers have played a blinder with this "I'm dead thick" defence. Shame, if I went for that in this Ferdinand thing nobody would buy it, not from a smart cat like JT.
0845: Driving into training and listening to a voicemail from my agent: "Remember what we said about trying not to do anything stupid today, JT?" I'm getting sick of that guy; same message every damn morning.
0855: Apparently running a red light whilst on your phone is against the law. Said I'd show the two coppers around the club if they let me off, quick thinking there from JT.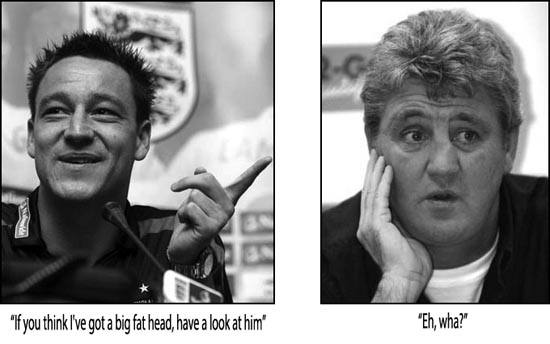 0910: Me and Ashley see David Lolz (our nickname for him, because he's a joke) and both pretend we're playing FIFA with controllers and stuff. Totally owned him.
0920: Saw Meireles and Bosingwa chatting away with Ramires and Lolz and asked them where they learnt to speak Brazilian so well. Meireles looked at me proper funny and Bosingwa raised his eyebrow at me. His one, stupid looking, eybrow.
0930: Getting our kit on and Daniel Sturridge throws Michael Jackson's Black or White on the stereo, does one of his "I'm a massive arsehole" dances and looks at me laughing. Tosser.
0945: Training starts and I'm on the same side as Lolz. Well annoying. Straight away he's off wandering upfield leaving me looking exposed. Had a joke with the gaffer in Brazilian too, they both looked at me and laughed. Bastards.
1045: Embarrassing moment in training. Cahill had a pop at me because I keep calling him Tim. Apparently Tim plays for Everton and his name is Gary. How the fuck am I supposed to know that? I don't watch the Championship!
1145: Break for lunch and I see I've got a message from Mourinho on my phone. "The Special One needs your help JT..." Ooh, quite fancy winding down my career at Madrid, might get my agent onto this "...can you tap up Juan Mata for me, see if he's interested?" Bollocks.
1215: Frank's not taking this being left out of the team stuff very well. He's onto a fourth dessert and has taken to some pretty heavy comfort eating. Cheered him up though when I said how he'll be the main man for England when Uncle Harry gets the job. He had a big, daft, chocolatey smile.
1300: Session in the video room. AVB doing some boring thing about zonal marking. I yawned dead loud on purpose and everyone laughed. AVB said he could do a Powerpoint on how not to bottle it and lose a three nil lead in half an hour if everyone wanted; we got the point.
1315: Frank did a little doodle of AVB called "The not so special one" had me and Ash in hysterics. Got sent out of the room. Cech told us to grow up too, the turncoat.
1345: Tim Cahill and Lolz wandering down the corridor together chatting away like best mates. Not sure I like that.
1400: Had a whole session this afternoon about how we weren't playing to Torres strengths. He's spanking it wide, launching it over, air-kicking and falling over but AVB is bollocking us. Odd that Roman was down watching training too, he hardly ever does that.
1530: In the changing room Frank asks if I've seen that Barton is putting the boot into me a bit on Twitter. Says he's always quoting Neitzsche but probably doesn't even know who he is. I laughed and said "Yeah, bet he probably thinks he played full-back for Germany!" Anyone with even just a few footy DVDs knows he played on the wing for Holland.
1600: On the way home I called Fabio to thank him for standing up for me with the FA. I said that wherever he ends up just to drop me a line and I might come and play for him. Went quiet, then said "You're a going through a de tunnel, John" and the phone went off. I wasn't going through a tunnel though. Odd.
1620: Listening to Talksport and they're saying Capello is going to Russia, and there's loads of issues of racism over there. Hmm, best swerve that then.
1710: Pulled into the drive and the bloke who fixes the dishwasher was just leaving. That's three times this week that thing's been broken. Shoddy workmanship that.
1740: The missus was talking about Rooney's hair, saying how it looked better and he probably got it for free. Asked if I'd ever considered plastic surgery for my massive forehead. She's being a right bitch at the moment.
1815: Missus is off out with the girls but says she's put my tea in the oven. Pulled it out and it was a baking tray full of Alphebite potato shapes all in rows spelling BNP. Hilarious.
1945: Sat down to watch the footy as Didier is playing in some game in Africa. He lofted a penalty well over the bar. He looked like he was going to cry but then blamed the spot; I wish I'd have thought of that.
2130: Mad game and Didier's lot get beat on penalties by Zimbabwe. Penalties are such a lottery. If you miss one, and then lose, then you can't really blame yourself, it's all pure chance. I called him after the match and said he must be gutted he won't be at the next World Cup after that result. He just sighed and put the phone down. He was really down. Felt sad for him.
2135: Got a text off Kalou saying: "Cheers 4 thinking of us JT" – No idea what that's about?
2200: Get ready for bed by putting on my Chelsea pyjamas and my England's captain's armband (I bought my own, have that FA!) and settling down for the night. 
2230: Trying to get off to sleep but keep having those recurring nightmares about playing against Germany with Upson and Barry. It's horrible, everything goes in slow motion...well, everything except for the Germans.
2300: Finally doze off.
0415: Wake up and sit bolt upright. Hang on a minute; we haven't even got a dishwasher!