---

0700: Wake up to my Escape to Victory alarm clock and look at the time. Too early. Group text to the boys: "Training an hour later today, C U there". Roll over.
0805: Alarm goes off again. Walk to the bathroom feeling rough. Not sleeping well due to nightmares of that dirty, Chilean, Barca bastard charging at me backwards and having to defend myself. Such an injustice. 
0815: Get out of shower. Look at my hair in the mirror. Is it time to get that number off Wayne?
0820: Walking to the kitchen I see Churchill has been at my best loafers again. I swear I'll put that dog down one day.
0830: Sat having breakfast staring at the massive print of the Golden Gate Bridge that the missus bought the other week for the living room. Not keen on it.
0845: Walk out to the car, the new number plate looks brilliant: AVB L0L
0925: Have a prang in the motor. The police were being right pricks about it and taking the other bloke's side. Laughing right in my face when I told them how it was his fault 'cos he'd checked his manoeuvre and that's why I hit him up the arse.
1030: Arrive at training. Bobby Di Matteo had already set-up the drills and stuff and was waiting for me, he's great like that. He seemed a bit miffed that I'd put training back a bit without telling him but we soon laughed it off.
1050: Picking the teams and Ramires jogs through the gates. Start to bollock him for being late when Bobby tells me he was here at six but just went jogging round London for a few hours to warm up. Lunatic.
1053: First pick for my team? David Lolz. He doesn't know it yet but he's going in goal.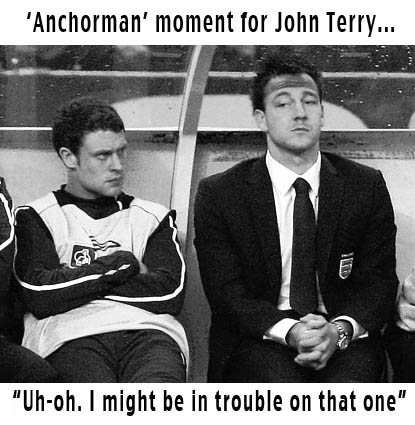 1110: Let Lolz come out of nets but make him wear the "shittest hair" bib. Saw him and Meireles making remarks to each other in Brazilian about it; brought out another bib for Raul. Dicks.
1200: Chatting with Lamps about England. He reckons his Uncle Harry will still get the job but said that it might not be so bad if Hodgson got it. Meireles and Torres were laughing their heads off for about five minutes. They actually had tears running down their faces.  Odd pair, them two.
1215: Got a text off Joey Cole over in France. He says that Hazard is amazing and that he's going to be a nightmare for anyone to play against next season in the Prem. Shouted over to the other table to Cahill: "You're marking Hazard against France in the Euros, Tim!" Everyone loved it, loads of laughs.
1230: Bobby called us out of the lunch hall to start the afternoon's fitness work but I was in the middle of a game of Angry Birds so finished that first. 
1245: Stoll onto the training pitch. One of the academy lads is tied to the crossbar by his ankle and Bobby was giving Ashley a proper telling off. Some seriously funny shit.
1255: Notice that Roman is knocking around so need to shape up a bit, just go and randomly tear a strip of someone, looked dead captainy I reckon. Roman is looking a lot better than last time I saw him. Pre-match at Everton and he walked past Tony Hibbert in the tunnel; I've never seen a man so scared. Ran away shouting something like: "I didn't steal the gas Vladimir!" 
1345: Had a bit of agro with Sturridge. I said to Frank that if he were made of chocolate he'd eat himself. Went mental when I called him "Chocolate" though; touchy twat.
1350: Drogba and Cech both went for a ball and clashed heads. Physio ran on; saw Didier rolling around in agony and Petr with a dazed and confused look on his face. He looked relieved that nothing was wrong.
1415: Finished training but Drogba and Mikel stayed behind for a bit to work on their theatrical falls. Fair play to them like, they've both become masters at it.
1445: Getting changed out of our training kit and Sturridge is whistling Ebony and Ivory. Really hope he doesn't go to the Euros.
1515: As we were walking to the cars Ashley showed me this thing on Twitter where someone was pretending to be Big Sam. Ash was loving it but I didn't get it...why would that be funny?
1540: Ash gave me a lift back home. On the way his missus called him on the hands-free in the car. No idea what she said like, never could understand the Scottish accent.
1543: Reminded me to call the missus. She's off on holiday with the girls; again. She told me to send some more money over to her hotel in Rio. Sounded like she was with a bloke but she said it was a taxi driver. Sure I could hear people jumping in a pool though. Odd.
1630: Got home and chucked the Sports news on. Wish they'd stop re-running my sending off and taking the piss out of me. After all I've done for this country too. 
1633: They showed the Madrid v Bayern penalties again on TV. Ramos looks at the pitch after skying his; textbook stuff. Bet he felt like crying, even if he didn't.
1645: Got a text of Bridge: "U watchin' SSN? That Ramos doing a Terry. At least he didn't cry and he's got hair though, eh?" – That bastard knows my routine. I hate him.
1730: Nothing in for tea so decide to "Do an Avram". Get my credit card, get on the phone and order myself a Thai.
1755: The next door neighbour comes round with my take-away. Says that if I keep getting it delivered to the wrong place then next time it'll go in the bin. Stroppy cow.
1826: Took the rubbish from my meal out to the bins, noticed that my "Dad of the year 2009" trophy had been chucked in the recycling. How did that happen?
1856: Got a text off AVB: "There are some decent museums in Munich if you want something to do whilst the final is on?" Horrible little dwarf.
1934: Get the Xbox out for a few games of FIFA. Started a new game where I'm player-manager for Chelsea. Had to edit my pace though, kept getting skinned and it was doing my head in. Pro-Evo still send me boxes of their games each year after I was on the cover. Can't give them away!
2003: Trying to play and the cat keeps pestering me to be fed. It can piss off. I told her I didn't want one and she gets one anyway. Then calls it Anton. Yeah, before you ask, it's black. 
2100: Got a call from the Gaffer in Madrid. We had a long chat and he gave me some tips on where we are going wrong. Bit of an awkward moment half way through the call though: he said it was a shame Chelsea's Special One won't be at the final and I thought he was talking about me, and thanked him. He wasn't. Obviously. Asked him how he reckons Bosingwa should deal with Robben and he just started laughing and put the phone down. I didn't get the joke.
2215: Decided to get an early night's sleep. Got a big day tomorrow, a photo-shoot for the Chelsea website promoting those little plastic flags. Decide to try this product the missus got for me on my hair. She says it's a bit like that Regaine stuff, it's called Imaac?
2230: Turn out my CFC branded, bedside lamp and try to get some zeds.
0430: Wake up in a pool of my own sweat. Having some grim nightmares about that sending off again. My pillow seems glued to my head for some reason. Bollocks.