Anfield has enjoyed many famous European nights; Inter Milan in 1965, St Etienne in 1977, Chelsea in 2005 and so on. Unfortunately, I never got to attend those in person. The one I did get to has become the forgotten great European night, the 1976 UEFA Cup final 1st leg against Bruges.
It didn't start too well as the Reds quickly fell 2 goals behind against a top class Bruges team, spearheaded by a young Allan Simonsen. What was Bob Paisley's response at half-time? He took off a striker for a midfielder (Jimmy Case for John Toshack). It seemed an odd move at the time but it worked a treat and the reds got into the game.
As usual Anfield was full and a 50,000 crowd really started to get behind the Reds as they fought their way back into the game. In the space of 7 minutes the game was turned on its head. Ray Kennedy got one back and hit the post with another effort. Fortunately, Jimmy Case turned in the rebound.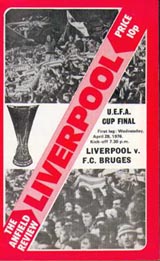 In the uproarious celebrations my glasses were knocked off and fell on to the Anfield Road terraces. So there were 49,999 people going mad and me ordering everyone to stand still so that I could retrieve my glasses. Miraculously, I found them unbroken.

 

A couple of minutes later Steve Heighway was brought down in the area. Before the penalty was taken I was told in no uncertain terms to take my glasses off. Although I couldn't see anything the resulting celebrations made it clear that Kevin Keegan had scored.

 

The Reds couldn't score again and Ray Clemence had to make some great saves to keep Bruges out so the first leg finished 3-2. The atmosphere in the second half was terrific. At the end the emotions were a mixture of emotion, exhaustion and a sense that you hadn't just been a spectator but a participant in a great occasion.

 

Frank Dacey

Postscript: the Reds battled to a 1-1 draw in Belgium as Kevin Keegan's free kick ensured the team returned to Merseyside with the UEFA Cup)

 
="width:>

Season:1975/76
Opposition:Club Brugge
Result:3-2
Scorers:Ray Kennedy, Jimmy Case, Kevin Keegan(pen)
Venue:Anfield