TLW:  Last season must have been a bittersweet one for you.  There were highlights such as Arsenal and Olympiakos, but then of course you missed out on two cup finals and a lot of big games.  
 
Yeah last season was a bit up and down.   I never really got going because I missed pre-season, and my knees were always bothering me.  There was a lot of injuries to the strikers though so I got more chances than I would normally have expected, but then obviously the knees got so bad I had to have them both operated on.
 
TLW:  Would you say it was a successful season for you personally?
 
Yeah I'd definitely say it was a successful season for me.  But the more success you have the higher your standards become.  I want to achieve a lot more.
 
TLW: The Arsenal goal would presumably be your personal highlight?
 
I'd say so yeah.  It was the last minute, at the Kop end and against one of the best sides in the country, the champions at the time in fact.   I just hit it sweetly and it was a wonderful feeling seeing the ball hit the net.  Olympiakos was fantastic as well though, because the atmosphere was absolutely unbelievable.
 
TLW:  We'll get to Olympiakos in a minute, but against Arsenal you were up against Campbell and Toure, and you gave them a tough game. Didi you feel that you had arrived as a first team player after that game?
 
No not at all.  My coaches at the Academy always said to me you can't class yourself as a first team player until you've played at least a hundred games, so I've got a long way to go yet.  Obviously I was made up to get that goal, but it didn't really change the way I looked at myself.
 
TLW:  But it certainly made the rest of the country aware of who you were.  Did that make it more difficult for you to go out in Manchester?
 
No not really, because I prefer to go out in Liverpool than Manchester anyway.  I just find the atmosphere is a lot friendlier and the people are lot warmer in Liverpool.
 
TLW:  You mentioned the Olympiakos game.  You must have been itching to get on, but you had to wait a long time before getting the call?
 
Yeah, I think it wasn't until about the 75th minute that I got on.  I fancied myself to score because we were throwing everything forward as it was 1-1 and we needed to win by two goals.  I was very confident that I'd get a chance to score, and I did.  Thankfully I took it and then Stevie got the winner.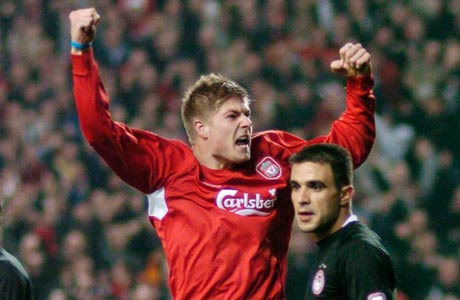 TLW:  Yourself and Flo played a massive part in the CL success, you must be proud of your contribution?
 
Very proud.  We're European Champions, and even though myself and Flo missed the later rounds through injury, we know that we made a big contribution and without that contribution the club wouldn't have qualified from the group stages.  When we were on the pitch at the end in Turkey, we knew we'd contributed.  But then so had other players, who played against the likes of Leverkusen and Juve but not in the final.  It was a real squad effort.
 
TLW:  Did you get a medal?
 
No, not yet.  I don't know exactly what's going on with that.  I'll find out when I get back.  The 18 man squad all got one, and the manager, Pako and Alex Miller took one as well.  I don't know what happened to the others, but I'll be asking Stevie Gerrard if he can sort it out when we get back for pre-season.
 
TLW: I know you went to the Chelsea game at Anfield, what did you make of the atmosphere that night?  
 
Oh it was unbelievable.  I definitely think the fans pulled us through that game.  I was in the Main Stand, and where I was stood I could see the likes of Gary McAllister and Alan Hansen there getting well into it.  Chelsea's supporters never really got behind their team that much in the first leg, and I'm sure that the atmosphere at Anfield really helped our lads.  I'd have loved to have been playing, but just being there was the next best thing.  Apart from the goal against Arsenal, just being in Anfield and being a part of the atmosphere for that Chelsea game was probably the highlight of my season!
 
TLW: Were you joining in with the singing?
 
Oh yeah! I stayed behind singing for about twenty minutes afterwards with all the fans, it was fantastic.  Quality!
 
TLW:  What about the final, who did you watch it with?
 
I was in the directors box with the other lads who weren't involved, and all the wives and girlfriends.  
 
TLW: Were you all going nuts when the comeback started?
 
Oh yeah, everyone was loving it.  At half time it was terrible though, everyone was so low.  But once we got back to 3-3 I knew we'd win it.
 
TLW: So you fancied us once it went to pens?
 
Definitely, we had the momentum and their confidence had to have been affected.  Especially with that save in extra time from Jerzy.  I mean, the first one was decent, but that second one.... I don't know how that stayed out.  It has to be the best save I've ever seen.
 
TLW: Obviously but for injury you may have been involved in that shoot out.  Would you have fancied taking a pen under that presure, or would you have left it to others?
 
Oh I'd defo have been willing to step up and take one.  I'm always confident with penalites, although I have missed a couple.  I missed one in the youth cup semi final shoot out at Blackburn a few years ago, and I also missed one for the first team in a pre-season game.  
 
TLW: What did you make of UEFA's decision to enter the club into the first round?
 
I was very surprised.  I knew we'd be in it, I wasn't worried about that, but I thought we'd have come in at the same stage as Everton.  
 
TLW:  It's made things a bit more difficult for you with there not being many friendlies to use to get your fitness back?
 
Yeah, we don't really know what's happening now.  If we get through to the 2nd qualifying round then it looks like the tour of Japan will be cancelled.  It probably has made it more difficult for me because I'd be more likely to get a run out in friendly games to get fit than in competitive fixtures.
 
TLW: Is there a worry that the extra fixtures will probably take its toll later on in the season?
 
Possibly, as a lot of the teams who played in the intertoto cup struggled in the league.  For me though the CL games give me more chance of being involved with the squad, as there's seven subs for those games and only five in Premiership games.
 
TLW:  You've been linked with a move to West Brom amongst other clubs.  Have you heard anything about that, and do you see your future at Anfield?
 
The first I heard of the West Brom thing was when someone phoned me up and said "what's all this about West Brom?".  I hadn't heard anything about it, and then I saw something in the paper.  I don't know anything about it to be honest, other than what I've read in the press.  The only way I'd leave is if the manager told me he didn't want me.  I've loved every second of my time at Liverpool and never want it to end.  There's no way I want to leave.  If I left, they'd have to drag me out kicking and screaming!  
 
TLW:  Quite a few players will be leaving the club this summer, one of whom is Igor Biscan who is a bit of a cult hero in TLW.  Do have any funny stories about Igor which you can share with us?
 
Well there is one story which you'd find hilarious, but I don't think it would be suitable to print!
 
TLW:  Ah go on, tell us?
 
No, I really better not!  Igor is a really decent fella though.  I roomed with him quite often, especially when I first got into the squad when Houllier was in charge.  I probably knew him better than most people at the club because of that.  Igor is a really nice guy, and I wish him all the best wherever he ends up going.  He had a really good season for us last year,  and I remember him beating about six players and playing a great pass which led to a goal away at Deportivo.  He's a good player and a nice guy.
 
TLW:  Finally, you were on Soccer AM last season just after the semi final. I hope you rubbed Lovejoy's nose in it?
 
Oh yeah, I did give him stick.  He's not as big a Chelsea fan as you think, although he was gutted about the semi final.  He was sure they'd beat us, and was a bit surprised they never.  He took all the stick in good spirits though to be fair.
 
TLW:  Well their run of spawny wins against us had to end sometime!
 
Yeah I suppose so.  I remember the game at Anfield when we should have had the penalty.  That would have changed the whole game.  When we scored so early in the semi final, I really expected Chelsea to throw everything at us, but they never did.   They just had the one chance with Gudjohnsen at the end.
 
TLW:  Presumably you were sat right in line with that then if you were in the players section in the Main Stand?
 
Yeah I was.  It was as though it was in slow motion.  It just seemed to take ages, and I was so made up when it went wide.  
 
TLW:  You would have had a good view of the goal as well then.  Did you think it was over the line?
 
I don't know, everyone just jumped up and was going mad.  If he hadn't give the goal though he would have had to give a pen for the foul on Baros and he'd have had to send Cech off.  So Chelsea got off lightly really.  I just thought back to the Carling Cup final when we scored early as well, and I was hoping it wouldn't go the same way, with them just throwing everything into attack.  It didn't though, but I think the crowd had a lot to do with that, as I said they were fantastic.