---
written by Steve Horton
Albert Stubbins was born on 30th July 1920 and spent a lot of his childhood in America until his parents returned to England. After joining Sunderland as an amateur, he signed professional forms for Newcastle in April 1937. He became a prolific Wartime scorer, hitting 245 goals in 199 Wartime matches for them.
He kicked off the first post war season in Division 2, but Liverpool pounced to strengthen the forward line after failing to score in two of their opening four league games. Everton made a bid too, but luckily for the Reds Albert tossed a coin and opted to speak to Liverpool and he signed for £12,500.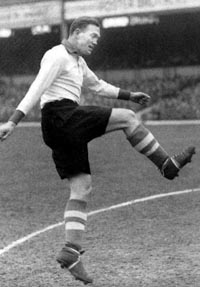 He made his debut days later and scored in a 3-1 win at Bolton, which set us off on a 12 match unbeaten run. That season he would score 24 league goals as the Reds won the title, making him joint top scorer with Jack Balmer. These included a hat trick in a 3-1 win at Charlton and the decisive second goal in a 2-1 win at Wolves that put Liverpool top of the table in their final game. This game at Molineux was played in searing heat but Albert found the energy to run half the length of the field to score after Liverpool's defence had cleared a corner. The win eliminated Wolves from the title race but Liverpool weren't crowned champions till a fortnight later when Stoke lost their last match against Sheffield United.

 

Albert's most famous goal of that 1946-7 season came in the FA Cup on a freezing cold day in March. Liverpool were at home to Birmingham City in the 6th round and the game was played on a snow covered pitch. We won 4-1, with Albert hitting a hat trick, the third goal coming from an amazing diving header. Albert launched himself to meet a low Billy Liddell cross, meaning he was flying through the air like a plane. The force of the ball against his head meant it gave City's keeper no chance as it crashed into the net and Albert landed on the ground sending snow flying everywhere.

 

The goal became known as the 'goal in the snow' and later that night Reds fans sang Albert's name outside a hotel where the squad were dining. Unfortunately the Reds were unable to complete a league and cup double as Burnley won the subsequent semi final.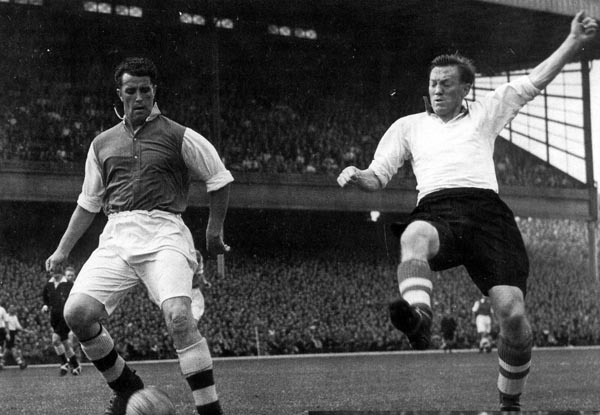 The following season, 1947-8, Albert made an emotional return to the North East for a friendly against Newcastle. The game was played on FA Cup 5th round day, with both teams having been knocked out and a record friendly crowd at the time of nearly 45,000 attended. Albert was appointed Liverpool's captain for the day, but although the Reds cruised to a 3-0 win, he would miss a penalty.
Liverpool struggled in the league that season, finishing a disappointing 11th. Albert was once again Liverpool's top scorer with 24 goals, which included a four goal haul against Huddersfield at Anfield. Albert actually received a telegram on the morning of the match saying that he'd have his legs broken if he scored. It didn't bother him however and his one man show ended a Reds run of seven games without a win. The mystery of the telegram has never been revealed, but Albert himself speculated it was manager George Kay's way of firing him up after a recent barren run.
In the summer of 1948 the fans were devastated when their hero returned to the North East when he was involved in a dispute with the board. With one eye on a post football career, Albert had contributed to the Footy Echo since his arrival, a move sanctioned by chairman William McConnell. But McConnell's death shortly after the 1947 title win meant that the new chairman didn't feel he was bound to honour a pledge made by his predecessor. Albert felt so strongly that he went home to consider other career options, including owning a sweet shop.
Liverpool's forward line was hopeless without him as we made a terrible start to the season. At one stage the team went eight games without a win, scoring just three goals in that time. Luckily in October the row was resolved much to the fans relief as Albert returned to Merseyside. 20,000 turned out for a reserve appearance and when he finally made his first team bow for the season against Middlesbrough 57,000 were present, 15,000 more than for the previous game. Albert didn't disappoint either, scoring in a 4-0 win. But the team never recovered from the poor start and he finished the season with just 6 league goals as is appearances became further limited by injuries.
In 1949-50 Albert again struggled with injury but still managed 10 league goals and was part of the side that played in Liverpool's first ever visit to Wembley. Despite being favourites, we lost 2-0 to Arsenal but afterwards Albert would give fellow Geordie Bob Paisley some advice that we shall ever be thankful for. Bob was so gutted about being left out of the FA Cup final line up, despite having scored in the semi, that he considered quitting football altogether. Albert persuaded Bob to carry on as things could well change and they did. Bob did regain his place in the side and studied physiotherapy so he could remain in the game when he finished playing. The rest is history.
Although international recognition eluded Albert, he did get selected for a Football League XI in 1950-1 and scored five goals in a 6-3 win over the Irish League. By now he was over 30 and in addition to his ongoing injury battles he had to contend with the emergence of other younger players. He made only 13 appearances in 1951-2 due to a thigh problem, but he reserved his best performance for a game against former club Newcastle in March, when he rolled back the years with two great goals in a 3-0 win. They would be his last goals for the Reds and in 1952-3 he played just five times, his final appearance for the club coming at Stoke in January 1953.
Despite having been out of the side so much during his final year, he remained professional throughout and never complained about being overlooked or played out of position. He returned to the North East and spent one final season playing for Ashington before hanging up his boots and doing some coaching work in America. 
In 1967 The Beatles paid tribute to him by making him the only footballer to appear on the cover of the Sergeant Peppers album. He was delighted when a representative of Paul McCartney approached him and his presence should dispel any lingering doubts put forward by Bluenoses as to whom Macca supports. Albert was by now pursuing a successful career in journalism, mainly covering games featuring North Eastern teams. He remained popular in Liverpool however and was flattered whenever he was recognised, which was quite often. On one occasion he was taking a taxi and the driver asked if he'd brought his boots with him.
Albert's last visit to a game at Anfield was in 1994 when he was a special guest at the Kop's Last Stand. He was one of a number of former players who came onto the pitch before the game and received a thunderous welcome. Although he was unable to travel down to Anfield for games anymore, he retained an active interest in the Reds and gave a lengthy interview to the matchday magazine in 2000-01. He also shared his memories with Granada for an official history video. He looked fit and well on that, but was soon to be gripped by the illness that would take his life. But his recent selection as one of the 1940s representatives on Liverpool FC's Hall of Fame should ensure he is remembered by young and old for many years to come.
Steve Horton
@SteHortonLpool