How we laughed when they were hammered in Bucharest. It brought to an abrupt end nearly a year of taunts, jibes and recriminations as Liverpool continually had to justify themselves and their right as champions of Europe to defend the trophy.
When it became obvious that the FA would have to make a choice between us and them should we finish 5th and win the Champions League, they went into bitter overdrive. Logically there was no choice to make, especially considering the precedent that had been set with Real Madrid in 2000 when they got in at the expense of Real Zaragoza. But we are talking about Everton here and they just would not let anyone who'd listen forget how they'd been denied their chance in Europe by us 20 years earlier. As such the FA caved in, but had it been us and Bolton in the race for 4th they probably wouldn't have.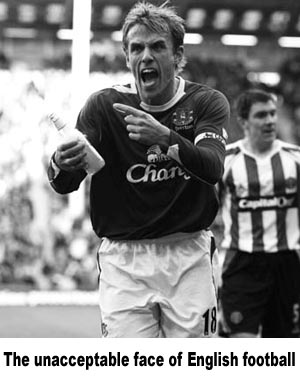 Of course we could and should have finished 4th anyway. We had plenty of opportunities to overhaul them and blew it. But we didn't mess up the Anfield derby and should have won by far more than the 2-1 we did. However when our players celebrated on the pitch, they were lambasted by the Blues for doing so. What's the world coming to when a team cant beat their local rivals at and celebrate in front of their own fans in their own stadium. They'll be asking for our fans to stay silent during the game next.

 

When they did secure 4th Moyes described them as the best team in Merseyside, forgetting that we were about to become champions of Europe. The best team in Merseyside then lost 7-0 at Arsenal.

 

Despite it being made clear by UEFA that Everton would take their place regardless of what happened to us, their fans still campaigned to stop us getting back in. On the night we won the trophy, one of them even set up an online petition calling for us not to be allowed in as "rules are rules".

 

Keith Wyness, who to be fair had always expressed his wish that we'd be allowed in as champions providing it was in addition to Everton suddenly went into bitter mode as greed took over. Before they even knew who they'd be playing in the qualifiers he was whinging that they faced losing out on television money as the English pot would now be split five ways instead of four. And there was me thinking they were in it for the glory and prestige.

 

Then they had to moan about the seedings. Despite not having played in Europe for nine years they were confused when UEFA confirmed that they wouldn't be seeded. Wyness said it was an unusual situation to be in for an English club, which it wasn't. They had no pedigree so weren't seeded, simple as. Just like West Ham weren't seeded in this seasons UEFA Cup and ended up with Palermo.

 

Despite being the best team on Merseyside they were terrified at the thought of drawing us in the qualifying round, with Moyes saying "I've got clear concerns at what might happen". That's a strange attitude for Moyes to have, considering they were supposed to be better than us.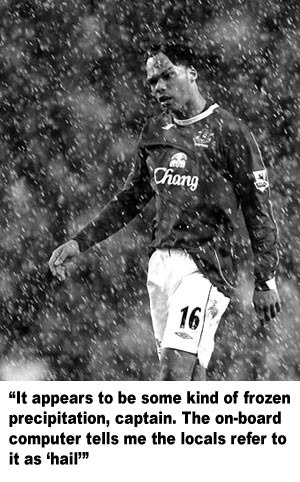 In the end they got Villarreal, arguably the hardest draw they could have got, leading to allegations that everything possible was being done to stop them going through. They then totally fucked up the ticket sales, putting them straight on general sale a week or so before the game and leading to chaos. But even that was our fault, as Wyness blamed confusion over the date of our games against CSKA Sofia for them having to delay putting tickets on sale.

 

For the away leg, they moaned about only getting 1600 tickets, despite this still being far higher than the 5% of ground capacity that UEFA regulations stipulate. Fearful of their return degenerating into mass hooliganism by ticketless fans Wyness begged fans not to travel if they didn't have tickets, no doubt fearful of them engaging in the racism and sick chanting that they have done in this country. If they'd have drawn us in the qualifier, he wouldn't have had those fears.

 

When they got to Villarreal the banners were out and couldn't fail to mention the fact their participation in Europe's top competition was 20 years too late. "Bit of trouble with the neighbours" was one caption. Nothing mentioned why they couldn't have won the league in 1990 (just 3 years after their last title) and qualified then.

 

After taking a battering they got back in the game when Villarreal relaxed and Duncan Ferguson had a goal disallowed by Collina. But they wouldn't let that one go and went into conspiracy theory overdrive, much of it being our fault. Nobody mentioned the fact that even if Ferguson's goal had been allowed, Villarreal scored again anyway so they'd still have been out.

 

So it was on to the UEFA Cup where they got a straight forward draw, with Wyness claiming that both were famous names in European football. That's a laugh, but both clubs did have the common factor of being in the shadow of more illustrious neighbours. They were hammered 5-1, with inexperience and naivety being blamed as they chased a second equaliser instead of keeping it tight at 2-1. the only surprise here is that they didn't publicly (although I'm sure they did privately) blame us for that naivety and inexperience.

 

Steve Horton