If Liverpool go into the final Saturday of this season with a chance of winning the title, you can be sure that Sky TV will have a helicopter positioned somewhere equidistant from Merseyside, Manchester and London with the trophy ready to be flown to the eventual winners for end of match celebrations.
This is a far cry from 18th April 1964 when the Reds went into their last home game with Arsenal knowing that victory would guarantee them the title, only for the trophy to be kept firmly under lock and key just 800 yards away at Goodison.
This was due to a bitter blue board who couldn't handle Liverpool's new found popularity and were reeling from the loss of one of their star players due to match fixing. 
Liverpool's lead in the 1st division was so convincing that it was a case of when, not if, they would be crowned champions. Defeat against Arsenal would not be a disaster as there were still three more games to play, although they were all away from home. But having not won the league for 17 years, you can imagine how desperate the fans were to see things wrapped up at Anfield.
The players, who were proud to play for a Kop that had got behind them in formidable fashion all season, wanted the fans to share in their triumph too. Nobody was disappointed, as Liverpool overcame an early missed penalty by Arsenal to win 5-0, all the goals coming in the first 60 minutes.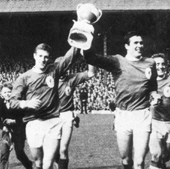 However, come the end of the game, the players had to parade around with a papiermache version of the championship trophy that had been made by a fan. 
The deposed champions at the time were Everton and when challenged about why they still had the trophy, they claimed that they had offered to give it back to the Football League who said something along the lines of 'no, keep hold of it, the season isn't over yet, we'll present the trophy to the eventual champions at an end of season dinner'.
This excuse is very feeble indeed and to find the real reasons we have to look at the nature of each Merseyside clubs title successes and the nasty surprise Blues manager Harry Catterick received the previous Sunday morning as he was about to tuck into his bacon and eggs. 
Everton's title success in 1962-3 was not universally acclaimed. They were dubbed the 'cheque book champions' after being bankrolled by Littlewoods founder John Moores. Catterick had spent £175,000 during the 1961-2 season and then a further  £60,000 and £40,000 in 1962-3 on Tony Kay and Alex Scott.
Bill Shankly, on the other hand gradually developed a team from the depths of the 2nd division, grooming youngsters to play along the big signings St John and Yeats, who's transfer fees combined hadn't cost much more than Kay's. When he broke Liverpool's transfer record again in the summer of 1963 to sign Peter Thompson, the fee was still a relatively small £40,000.
Liverpool swept all before them in 1963-4, relying on solid teamwork rather than individual brilliance to win the title and they were far more popular champions than Everton. The singing Anfield crowd was becoming legendary too and was the subject of a BBC Panorama documentary made at the Arsenal game.
In addition to having popular fans and players, Liverpool had a much more media friendly manager, Shanks always being great for a quote. Contrast this to the undertaker-like Catterick who hardly ever said a word, never smiled and made his players sign in at Bellfield every morning. 
Considering he was a miserable sod at the best of times, you can imagine Catterick must have been in a foul mood on the morning of Sunday 12th April 1964, knowing that the Reds were just one week away from the title while his own team had just drawn 3-3 at home to Wolves.
Things were about to get a lot worse. Opening the Sunday People, which you could trust to tell the truth back then, he read that his record signing had taken a bung to lose a game while he was a player at Sheffield Wednesday, as part of a nationwide betting scandal.
Already robbed of his title, the player who Catterick was relying on to win it back for him the year after was about to be banned for life and sent to jail. So a week later Ron Yeats was forced to run round Anfield with a Blue Peter inspired version due to the bitterness of the Blues who were raging at the popularity of LFC and the fact their star signing had been exposed as a cheat.
Steve Horton