---
What can I say about Djibs? Some loved him, some hated him, and some – like myself – loved him and hated him often at the same time. The colourful Frenchman was one huge contradiction. He'd speak about his great love for the club and the fans, and he'd back it up by wearing a red suit to get married in or be seen around town wearing a vintage grey Candy Liverpool away shirt. Then he'd refuse to close down defenders and fling his arms into the air when passes didn't arrive exactly where he wanted them. He was completely infuriating on the field, and usually that kind of player isn't tolerated.
But there was more to Djibs than the tantrum throwing, arrogant looking, work shy striker who sometimes looked like he couldn't hit Rick Waller's arse with a cricket bat. The 'laziness' was more due to a lack of a football brain than any reluctance to run. He didn't think 'I can't be arsed chasing that defender'. He just didn't think. Cisse was a phenomenal athletic specimen, and if that had been allied to a better football brain and a better first touch then he really would have been able to live up the hopes that he could become as good as his pal Thierry Henry.
As for the arrogance, by all accounts he is actually a nice, quiet lad, who was popular with his team-mates. Extravagent? Certainly. Arrogant? Non. If you judged him solely on a video highlights compilation of his goals, you'd think Cisse was something very special. Scary pace, and a ferocious shot, he's scored some amazing goals in his career. Based on that, you could be forgiven for thinking he was almost as good as Henry. What those highlights packages don't show however, are all the times he ran needlessly offside, or ballooned a shot into the back row of the stand, or failed to control a simple pass.
Many Liverpool fans had seen the goal compilation videos on the internet (some of them on Djibs' own website in fact), and as such expectations were high when he arrived for £14m after a three or four year chase by previous manager Gerard Houllier. He wasn't a Rafa Benitez signing, but the deal had been agreed and seemingly there was no way out of it, so the new manager was stuck with him. It started well enough with a debut goal at Spurs, but the flaws in his game quickly became apparent.
Serious doubts were beginning to emerge from many fans about the striker's technique, work rate and overall effectiveness. One God awful display at Old Trafford in which he allowed returning druggie Rio Ferdinand the most comfortable game of his career, really raised concerns about the young French striker. Then, he suffered a horrific leg break at Ewood Park. It was expected he'd be out for a long, long time, yet amazingly he was back within five months, coming on as a sub against Juventus in Turin. That desire to get back playing makes a mockery of any suggestion that he is work shy, and it earned him a lot of respect and patience from the Anfield crowd. The flaws in his game were still there, but no-one was going to have a go at a lad who had fought so hard to get back playing at a time when we were short of numbers up front.
His sudden popularity also made it difficult for Rafa Benitez to sell him. He'd scored a penalty in the Champions League final shoot out, and still had four years left on his contract. Getting shut of him wasn't going to be easy, especially as he was desperate to stay, so at the start of the following season Djibril was still at the club. He bagged a load of goals in the CL qualifying rounds against the minnows, but on the whole he just wasn't cutting the mustard up front. Benitez had watched hours and hours of video footage from Cisse's Auxerre days, and noted that a high proportion of his goals came when attacking from the right, so he began to use him on the right wing. The results were mixed, as Cisse's goals per game ratio was impressive, even when he was playing on the wing. The stats were perhaps deceiving however, as he was something of a flat track bully. Most of his goals came against poor opposition, and he never got a kick against the top sides.
Old Trafford would again prove to be a low point, as he missed an absolute sitter when the game was scoreless, and we went out to concede a stoppage time goal and lost 1-0. He'd missed the chance because he had been sat on his arse complaining in the six yard box, and had to jump up quickly when the ball came to him and he spooned it over the bar. The incident encapsulated all that was wrong with Cisse, and that was the day when a lot of people finally ran out of patience with him. He continued to delight and infuriate (not in equal measures) for the rest of the season, culminating in the FA Cup Final.
If ever a game summed up Djibril Cisse, that was it. As we found ourselves 2-0 down to West Ham, we were in big trouble. Djibs had already seen one goal harshly ruled out for offside, but when Gerrard picked him out with a perfect ball, he acrobatically found the net with a superb volley. That goal got us back into the game, and got him off the hook with the fashion police after he'd taken to the field in odd boots. He rectified that problem at half time, changing his footwear so they at least matched. Unfortunately, his new boots were lime green coloured monstrosities. He did himself no favours there, especially as his performance was terrible.
He got cramp late on in the game, just like six or seven of his team-mates. We'd used all our subs, yet I distinctly saw Djibs trying to tell the bench he had to come off. He was told in no uncertain terms to get back on, which he reluctantly did. He couldn't walk for most of extra time, yet when the celebrations started he forgot about the pain. When the celebrations had ended and the players left the field, suddenly Cisse appeared sprinting across the pitch to go and hand his shirt and boots to a fan in a wheelchair on the far side of the field. Those around me where not impressed that he could suddenly run when he'd walked through extra time. That's what I mean though, he is a total contradiction.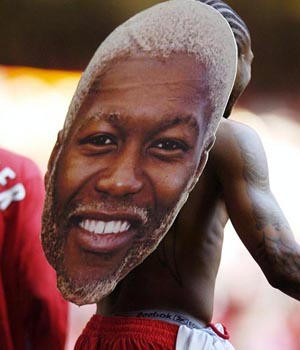 I don't think any player has ever split opinion in the way Cisse did. There were those who pointed to his goals ratio and claimed he should have been a given a run up front, whilst other argued that he contributed nothing apart from the goals and he didn't do it against the top teams. I'm definitely in the second camp, although I think given the right surroundings in a side that plays to his strengths he would look a terrific player. That team was never going to be us, as he just didn't know what was expected of a Liverpool player. Morientes knew what was required of a Liverpool player, he just couldn't deliver it as he didn't have the legs. Cisse had the legs, just not the game intelligence.
Rafa was all set to cash in on him that summer, and the money would probably have been used to get Daniel Alvez. But Cisse broke his leg in eerily similar circumstances to last time, and Rafa saw £8m removed from his kitty. Marseille took him on loan, and he's back playing and scoring with them, so hopefully the deal will be made permanent in the summer. He is not a bad player, he's just not a Liverpool player.
It's hard not to have a soft spot for the crazy bastard though. The one thing you can say about Djibril Cisse was that he was entertaining. Not in the way he would have liked perhaps, but how can you not smile when you see your centre forward take to the field with a BA Baracus haircut? I loved that haircut. I loved the red suit he wore to get married in, I loved his penalty in Istanbul and his jig around the trophy. I love the fact he somehow got his hands on an 80's Liverpool away shirt and proudly wore it around town. I love the courage he's shown to come back from two broken legs, and I love that he loves us. It didn't work out, but it wasn't all bad. Djibril Cisse made me angry, but he also made me smile and that's why he made this list. Allez Cisse.
Dave Usher