---
He was shit before he arrived, he was shit when he left, but for the short, glorious spell that he was a Liverpool player, Titi Camara fucking ruled. I love Titi Camara, and he probably shouldn't be on this list as he's much better than a lot of the others who made this top ten. He's in there not because we laughed at him (like Phil Babb for instance), but because he made people smile. He was a real character.
He's a strange one is Titi. Before he arrived he had stank the place out in the UEFA Cup Final for Marseille, but in some ways that probably helped him at Liverpool. Expectations weren't high, so that may have lessened the pressure on him. He made a great start to his Liverpool career, and my first real memory of him is seeing him juggling the ball and taking the piss out of Arsenal at Anfield. It was the game when Robbie scored that cracker from 30 yards. I also recall Titi shoulder barging Lee Dixon and almost sending him into the Paddock.
He scored at Elland Road, and bagged a fair few goals in the opening months of his first season. He played with a smile on his face, and always managed to do some kind of trick during a game to keep us entertained. There's only one thing people will think of when they think of Titi though, and that's that night against West Ham at Anfield. Having found out his father had passed away that day, the Guinean striker insisted on playing against the Hammers that night, and fittingly he scored the only goal of the game. He broke down in tears immediately after scoring, but none of us knew the background behind it until after the game when the news broke.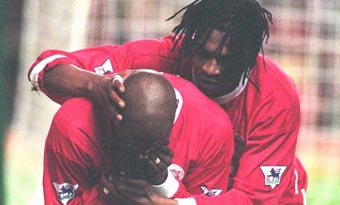 That night ensured Titi Camara's place in Liverpool folklore, but it cut no ice with Gerard Houllier who just never really seemed to fancy him, especially after signing Emile Heskey. Houllier's reluctance to play Camara in the closing part of the season arguably cost the club a Champions League spot, as the reds failed to score in any of the last five games and missed out on a place after a last day defeat at Bradford.
Things got worse for Camara at the start of the next season, when he was sidelined with a back injury that Houllier claimed he was putting on. When he eventually returned to fitness, he didn't get a look in, despite the side struggling in attack. The straw that broke the camel's back was when Houllier made Camara warm up on the touchline for the entire second of a dire game against Slovan Liberec in the UEFA Cup. The game was crying out for him, and so was the Kop. Houllier ignored those cries, and the next day Camara handed in a transfer request.
He moved to West Ham where he joined his pal Rigobert Song, but the move didn't work out and not to put too fine a point on it, Titi was fucking shit for the Hammers. When he came back to Anfield as a West Ham player, he got a great reception and applauded the Kop whenever they sang his name, just as he used to do when he was a red. He'd even do that when the game was still going on, and it used to drive Houllier nuts. That was Titi though, he was a genuine fella who loved Liverpool.
He later ended up playing for some rich middle eastern club. I remember reading about him scoring a hat-trick and being rewarded with three Rolls Royce's or something daft like that. People often list Camara amongst Houllier's poor signings, but that simply isn't true. He was a good player for us and how he played for other clubs is irrelevant. It's impossible for me to think about Titi Camara without smiling. Titi, Titi Ti, Titi, Titi Ti, Titi, Titi Ti, Titi Ti Camara. . . .
Dave Usher