---
He's big, he's red, he's off his f*****g head. Never has a song summed up a player so well. The Big Dutchman who was snapped up on a Bosman from Bayer Leverkusen in the summer of 1999 proved to be a popular figure with the fans, but it was certainly not for his goalscoring prowess. Meijer was a proper loon, but in a good way. As committed a player as any that have ever played for the club, Erik only knew one way to play, flat out.
Anyone who watched him stomping around St Helens like a madman in reserve games will testify to how committed this man was. Reserve games against Sheffield Wednesday were treated with the same gusto most players would save for cup finals. What he lacked in talent he attempted to make up for with sheer effort, and the one thing Liverpool fans always warm to is a trier.
Erik made 27 appearances in total for the reds, but managed only two goals, both coming in the same game at Boothferry Park against Hull City in the League Cup. Many of his appearances came from the subs bench, where his physical presence and heading ability proved useful whether we were chasing a game or protecting a lead. It became a customary sight, the game would stop for a throw in or corner kick, Erik would enter the field and sprint to the near post and demand the ball.
Another regular sight was his first pumping, arm gesturing to the crowd to get them whipped up. It didn't matter whether it was 15,000 fans on the Kop, or 15 fans on the terraces at Knowsley Road, Erik loved to get the crowd involved. Reserve games have never been as much fun as they were when the big Dutchman led the attack. There was never a dull moment. There was one occasion where he was in an offside position out wide, and he sneaked along the touchline doing this tip toe, Inspector Cluesoe type walk hoping the linesman wouldn't see him. Mad as a sack full of crazy monkeys.
Another time he closed down a full back, who played the ball back to his keeper. So Erik chased down the keeper, who played it over to the full back on the far side. So Erik chased him too, and eventually got across there and blocked his attempted clearance and knocked the ball out for a throw. He then leapt to his feet, fist pumping and yelling 'Come on!!!' to the handful of die hards stood freezing on the touchline.
Another incident that stands out was in a league game at Anfield (against Bradford I think), where Erik took a ball full in the face from point blank range as he charged down a defenders clearance. There was an eery silence around the ground for a second or two as people waited to see what followed. It was almost like it happened in slow motion, as the giant striker paused for a second, looking as though he may be knocked down, only to suddenly regain his composure and shake his head furiously to shake off the cobwebs. A huge cheer went up, and he immediately set off after the ball again. That kind of commitment is a rare thing indeed, and if certain other players who possess considerably more talent than Erik had that kind of attitude, they could be world beaters. I won't mention any names, you can guess who they are *coughs* Heskey * coughs* Pennant * coughs*.
Other amusing Erik Mejier tales include the one where was the victim of a terrible high challenge by an Academy youngster who was training with the first team. The story goes that Erik was livid, but knew it would be wrong to take out his anger on the kid, so took himself back to the dressing room and kicked a door in!
The Echo's Chris Bascombe told TLW the following story about his experiences with Erik: "He was an eccentric but very likable guy. I remember Liverpool had a striker crisis before they played Leeds (when Leeds were good). I was told on the Friday by Houllier that Meijer would play. I saw him in the Melwood car park and asked him about the game. "Tell the people of Liverpool I have something to say. There are many players up for this match, and the Big Dutchman is one of them!" I loved the way he referred to himself as the 'Big Dutchman'. When I was still writing 'the Kop' magazine, I wrote an article about Liverpool's strikeforce. I mentioned Heskey, Owen, Fowler and Camara. At the next training session he ran over to me and said "where was the Big Dutchman in your article?" We printed a comic apology in the next issue."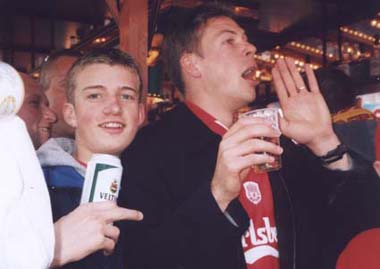 The season Erik spent at Anfield co-incided with the boom in players' websites. Many of the Liverpool players had websites, but Erik's was the most entertaining. He'd post some of his home made recipes, and one time even posted a special 'Fish Dish' that Sami Hyypia had introduced him to. Erik's culinary tips went down a storm with the LFC internet community, and it's a damn shame his website isn't still going. On the field, the highpoints were the part he played in a win at Highbury and a draw at Old Trafford. Erik won the free-kick from which Paddy Berger stunned the Stretford End with a 30 yard rocket, but for the most part the big man was more cheerleader than striker.
It is somewhat fitting then, that the thing he is most fondly remembered for by Liverpool fans is not anything he did on the field, but rather travelling across Germany to go on the lash with the fans in the Alter Markt, Dortmund, before the UEFA Cup Final. He was even wearing his old Liverpool shirt, complete with '18 Meijer' on the back. You'd have to be a right miserable bastard not to have fond memories of the Big Dutchman. A really fun guy.