---
So number one is Big Igor.  It had to be really, didn't it? Everything about the Big Croatian screamed out 'Cult Figure'. For a start, there's his name. 'Igor'. Or 'Eeeeeeeegor', as he quickly became known. Then there was the way he looked. He arrived here with a basin head haircut, and in all the time he was here he never really managed to get a decent hairstyle. Bless him.
After a hugely promising start, Biscan's Anfield career hit the skids. He had a small cult following, but generally he was just viewed as another big money signing who was not good enough to hold down a regular place at the club. TLW has been criticised in some quarters for turning him into some sort of unlikely folk hero, but like I said, he already had a little cult following way before we got involved. All TLW did was take the gospel of Biscanbauer and spread it to the masses.
It all started with a post on the TLW forum from someone who claimed to have seen Igor in Tesco's smooching with some tasty brunette in one of the food aisles. Who knows if that was even true, but no-one cared. Suddenly rumours of Igor's virility spread like wildfire, and a monster was created. Because Igor was such a quiet, mysterious fella (Carragher revealed in a TLW interview that he can't remember ever having any kind of conversation with Igor in all the time he was at the club), it was easy for this whole new persona to be created.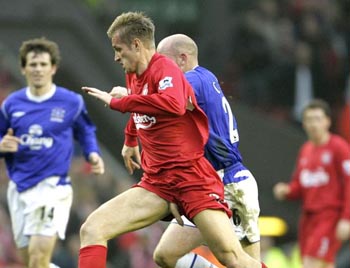 He always looked like he'd just got out of bed, so therefore that must have meant he was up all night entertaining his many lady friends. When he was pictured with his 'middle leg' dangling down from out of his shorts with Lee Carsley in close attendance, the forum almost went into meltdown with Igor jokes. Igor went from being the big dozy, accident-prone £5m flop, to the last of the international playboys virtually overnight. He was transformed, at least amongst the TLW brethren. I'm sure word spread elsewhere too, but Igor's standing was at it's highest at liverpoolway.co.uk.
I've written before in the fanzine how Gregory Vignal once tried to use Igor's name to secure the back seat of the reserve team coach from the Academy lads. He marched up to them and warned "Igor Biscan is getting on now, and he wants to sit there". Vignal was laughed off the coach by Steve McNulty & co, but there was nothing to suggest Igor had anything to do with it.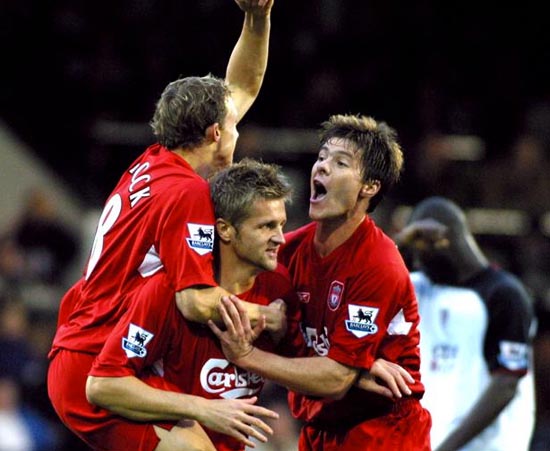 Carra revealed in issue 48 of TLW that Igor didn't really mix too much with the lads on the coach, he'd just sit there laughing hysterically on his mobile, although no-one knew who he was speaking too (some fine lady no doubt). There is another Igor story that I've never been able to use until now, but the person who told me is no longer at the club, and it's highly unlikely that Igor himself will be reading it anyway, so I think it's safe to share this with you now. The club were on pre-season training camp, and Igor's room-mate, who we'll call Mr X to maintain his anonymity, had left the room to go and have something to eat in the restaurant. Igor declined his offer to join him, saying he wanted to get some kip.
Anyway, Mr X got down to the restaurant, and then decided he wasn't hungry after all and headed back to the room. He entered the room, to find a red faced, profusely sweating Igor lying starkers on his bed. Igor quickly pulled the covers up, but not high enough to cover the… ahem… fluid that was all over his chest. Mr X pretended he hadn't noticed, went into the bathroom and pissed himself laughing before composing himself and going to tell the rest of the lads.
On the field, Igor redeemed his battered reputation in his final season at the club where he often filled in admirably for Steven Gerrard, most notably in big European away games at Betis and Juventus. Not that his immense displays earned him any respect from the skipper, who simply referred to him as 'that tit' in his autobiography. HOW VERY DARE YOU!
As the song goes, Igor Biscan is a giant of a man, and who the hell is Steven Gerrard to be mocking him? Gerrard may have secured the number two spot in the official club website's '100 Players Who shook the Kop', but Igor is number one is this particular chart. And first is first, second is nowhere. Remember that Steven Gerrard.
Altogether now: "Two nil down, four two up. Igor Biscan wrapped it up, and he didn't know what to do when he scored the goal, Igor Biscan's our hero" Eeeegor!!!
Dave Usher