Follow TLW
Follow @theliverpoolway





0
Can Liverpool reclaim top spot by Christmas?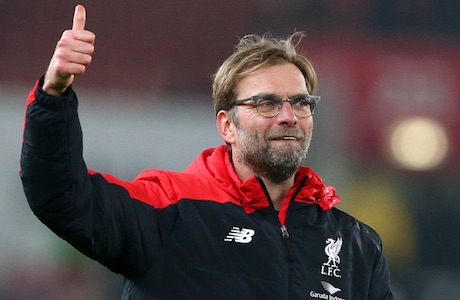 Liverpool's stint at the top of the table was short-lived, usurped by Chelsea following a 1-0 win over Middlesbrough on Sunday. Although the Reds did leave it up for grabs after settling on a scoreless draw to the Saints at St. Mary's on Saturday.
Jurgen Klopp's side is sat pretty in second place just a point adrift of Antonio Conte's rejuvenated Blues and level on 27 points with Pep Guardiola's highly fancied Citizens ahead of match day 13. As it stands, the next few weeks in the run-up to the Christmas Break will be pivotal. Perhaps, it might even determine the title race. [Insert dramatic shiver]. For Liverpool fans that means one thing: value
free bets
across sports betting platforms.
Own top spot in the table by Christmas, win the title by May, so they say in football betting circles. (Six of the last seven Premier League champions led the table during the festive season, including Leicester City last term.)
Speaking of markets, Man City, who were the preseason odds-on favourites to win the title, remain the top football bet at 2.75. Obviously, only a point separates Guardiola's side from the summit and recent form appears to be on the up which underscores this football betting outlook.
But what about Liverpool? Priced at 4.33 across sports betting platforms, their chances do look rather undercooked considering they are level with Man City and trailing Chelsea by just a point. Surely, they must be considered better title contenders than they are currently. Heck, even Chelsea are backed out to 3.33 or thereabouts depending on your choice bookie.
Consider the upcoming
schedule
and Liverpool's chances of reclaiming top spot in the lead up to Christmas do look a lot better than the football odds would suggest. Arguably, better than Man City, who have tough stretch ahead involving campaigns on multiple fronts.
Next up for the Reds is a date with Sunderland at Anfield. After which they travel to AFC Bournemouth; host West Ham United, who are in all sorts of trouble; travel again to Middlesbrough; return home to take on city rivals Everton at Goodison Park; and, then, host Stoke City. Interspersed amongst those fixtures is a League Cup date with Leeds United.
Compare that to Man City's schedule that looks so: Champions League match day 5 date with Borussia M'gladbach (away), Burnley (away), Chelsea (home) Champions League match day 6 with Celtic (home), Leicester City (away), Watford (home), and Arsenal (home).
Man City are set to play at least one match more than Liverpool is and altogether three away fixtures during this stretch, one of which involves midweek travel to Germany. It's going to be taxing on Guardiola's side, not least because they're still under the cosh in Champions League. What's more, Guardiola will need to be mindful of some of the tougher matchups against Chelsea, Leicester City and Arsenal. [Insert another dramatic shiver].
Not unlike Liverpool, Chelsea have only domestics to contend with this season. However, their Premier League schedule looms slightly larger than Liverpool's with two of the title contenders on the card. Immediately, this weekend actually their top credentials will be put to the test by the resurgent Tottenham Hotspur (home) and, then, Man City (away) will relish putting Conte's side through their paces. Things do lighten up with dates against West Bromwich, Sunderland and Crystal Palace but it nothing can be taken for granted, even seemingly straightforward fixtures. Besides, should Conte's side leak points to either Mauricio Pochettino or Pep Guardiola's side (or both), it could be costly.
Point is, no matter which way you slice the Premier League title race, the football odds really should be a lot closer than they are. The run-up to Christmas could prove deciding and the way things stack up with this triplet of contenders either Liverpool or Chelsea might fancy their chances. Maybe grab any one of these football bets on your outright wagers before the markets whittle them down and suck the value completely out.