Jurgen Klopp showered praise on his new goalkeeper as Liverpool tasted Super Cup glory after defeating Chelsea 5-4 on penalties after being locked at 2-2 over 120 minutes.

Adrian was the hero as he saved the tenth penalty of the shootout from Chelsea youngster Tammy Abraham to cue joyous celebrations from the Reds as they secured their second piece of silverware in as many months.

There was one man that the manager wanted to rightly give credit to.

The Mirror(via BT Sport) reported the German as saying.

What a story, ADRIAN! Like Rocky after he lost against Apollo Creed I think.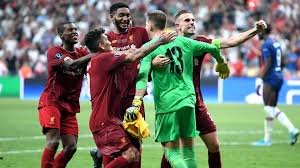 "He kept his nerves. He is really loud in the dressing room already. It's so good for him. I don't think he's won a lot in his life, so I'm really happy for him.

"It's an amazing story - I don't know where Adrian was two weeks ago when we played Man City (and had a penalty shootout!).

"When he came it was clear he needed time to get fit, I don't know when he played his last game, but he was ready, and it is remarkable he was ready like that."

Klopp was also very keen to put the success in context.

"I asked after the game again Milly and Hendo how do people view the Super Cup in England - they said no no, it's a proper trophy, it's on the wall at Melwood!

"It's really important. I didn't know before the game how big it would feel and I know now it's big.

"It's nice, really nice, but not about me, I am not just saying that - its about doing it for the people. We've had four opportunities to do it for them in the last few months and we did two, so that's good."