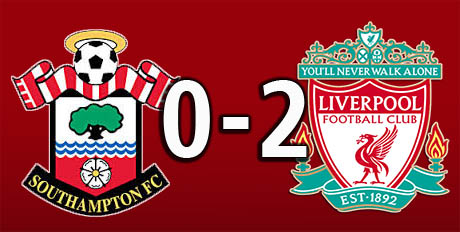 We don't win like this very often so this one was pleasing, particularly given the result at St James' Park earlier in the day. Two great goals, a clean sheet and a professional, mature performance in which we didn't have to expend too much energy ahead of a big Champions League fixture in midweek. Just what we needed.
Southampton couldn't lay a glove on us in the second half. We should have added to the lead we'd established in the first half but missed some really good chances. Usually that comes back to haunt us as more often than not we'll make a daft mistake at the back and then the pressure is on us, but defensively the second half was more or less flawless.
In the first ten minutes of the game we looked dynamite, ably assisted by some sloppy play by Southampton it needs to be said, and we could have had a couple of goals even before we took the lead on six minutes. Southampton were all over the place and our pace and pressing was giving them more than they could handle.
Firmino almost got in when he robbed Hoedt and then went down after a tug from the defender. I don't think there was enough in it to be a foul and I thought Bobby went down because he knew he wasn't reaching the ball. The ref got that one right, but he then spent the rest of the half allowing Southampton's players to foul Firmino as much as they liked without any punishment. It was fucking ridiculous and it's to Bobby's credit that he didn't completely lose the plot over it.
He was later denied a clear penalty and two blatant free-kicks. The penalty has pissed me off massively because of how nobody has made anything of it. Both Sky and BBC's commentators dismissed it as him 'going down too theatrically'. Fucking hell, after the absolute horseshit we had to listen to last week after those Spurs pricks were diving all over the place, that was hard to stomach.
The defender reached around Firmino's neck and grabbed his shoulder and pulled him back. There was ten times more contact in that than there was in both of last week's penalties combined. The same knobs who dismissed this one would no doubt have been saying 'there's contact' 'he's entitled to go down' 'the defender has given the referee no choice' and all manner of other tired old clichés had Martin Atkinson pointed to the spot instead of waving away the appeals.
I'm not sure how Firmino kept his cool with all these decisions going against him. I couldn't help but wonder what Suarez would have done under that kind of provocation from the ref. Scoring obviously helps to ease the frustration and having slotted one so early it was perhaps easier for Firmino to deal with the frustration.
This is just a teaser, click here to view the full report
Please note that Match Reports are only available to website subscribers. Subscriptions cost just £2 a month (you need to register first) and can be purchased here. If you are not currently registered on the site, sign up for free and receive a FREE no obligation trial subscription, which gives you access to all the members only content for ONE MONTH.