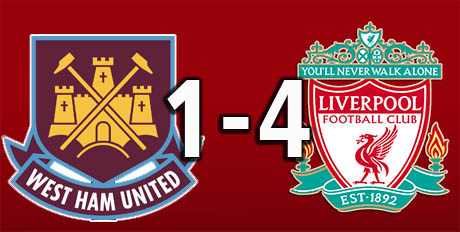 Two weeks ago we were on a massive downer after embarrassing ourselves at Spurs. Since then, we've played three, won three, and scored ten while conceding only one. We needed a response and we got one. So credit where it's due; it's been a good week and the players have bounced back well.
I don't think we even got out of third gear against West Ham, but second gear would probably have been enough as the Hammers are a hot mess. Sadio Mané being back in the starting line up lifted everyone and we just look a different team when we've got him and Mo out there. It's easy to say now, but I knew we'd win as soon as I saw the team. Any time we've got the dynamic duo out there I'll back us to win.
What was interesting this time was that Oxlade-Chamberlain joined them in what might be the quickest forward line to have ever taken the field for us.
When the team was announced most assumed Ox (I'm calling him that now, because a) Klopp does, 2) 'the Ox' sounds lame, and 3) I'm too lazy to type out his full name every time) would be in the midfield three. That's where he wants to play, apparently, and it looked like this was his chance.
When the game kicked off though we saw that Klopp had thrown a curveball and changed to 4-4-2, with Mo up front and Mané and Ox on the wings. There's something about a trip to West Ham that makes Kloppo want to experiment. Remember last year and he just randomly switched to a midfield diamond with Sturridge and Origi up top?
Just like last year, the change worked and we scored four. And just like last year, West Ham should have taken the lead but instead hit the woodwork. Remember that sitter Ayew missed in that game? Well he had another great chance this time. Mignolet hesitated but when he did come out he narrowed the angle, and Ayew's shot hit the post.
That was the only chance they had in the half (although there was another nervy moment when Mignolet decided to start dribbling instead of just clearing it), but how many times have we seen that one chance end up going in? We dodged a bullet there, and soon after we had the lead.
For all the problems we've had defending set-pieces I think we've finally cracked it. Klopp has realised that the best way to defend corners is for us to score from them. That way, teams will be too scared to send players forward. We did the same to Arsenal too.
Speed kills, and that opening goal was just frightening. Firmino won a great header in his own box and all of a sudden you've got Sadio and & Mo charging forward. No-one is catching them two, and in fact the only player who managed to keep pace with them was Oxlade-Chamberlain. The West Ham defenders looked like they were running in treacle, but it's not like they didn't try to get back, they just couldn't catch our speedsters.
Mané kept a cool head and waited until the perfect moment to play the pass, and Mo confidently rolled it past the keeper. Goals like that are killers. One minute a team has a corner and they're thinking "we might get something here" and then BANG. They're picking it out of their own net.
There are many ways to score a goal but nothing quite gets my pulse racing quite like the lightning, length of the field counter attack. I fucking love those goals, and we're becoming the masters at it. One minute we're in defensive mode, the next it looks like the lads are in a school playground playing British Bulldogs.
This is just a teaser, click here to view the full report
Please note that Match Reports are only available to website subscribers. Subscriptions cost just £2 a month (you need to register first) and can be purchased here. If you are not currently registered on the site, sign up for free and receive a FREE no obligation trial subscription, which gives you access to all the members only content for THREE MONTHS.