Kostas Tsimikas spoke of his delight of making his debut for Liverpool in their pre-season clash against Stuttgart on Saturday.

The summer signing from Olympiakos played the second half of the 3-0 victory against the Bundesliga side.

The Reds won the clash on a water sodden pitch courtesy of goals by Roberto Firmino, Naby Keita and Rhian Brewster and speaking to the Official site after the match, the left-back said this is just the beginning, 

"I feel very good, I'm very happy I did my debut.

"Now I want to work more and to play more often in the league games. I want to be ready for everything."

While these games are seen to some as brushing out the cobwebs ahead of the season, the Greek international said it has a level of importance attached.

"The friendly games are difficult. 

"First of all we have to be fit, that's why I tried to run a lot first of all; to show a good image and play hard. 

"And the result is the most important [thing], even in the friendly games and the competitive games.

"We'll keep this and we want to be ready for the [Community Shield] final on the 29th."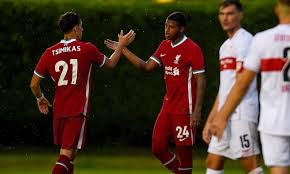 The performance of Tsimikas was hailed by Jurgen Klopp after the game but said he is the still in the learning phase of the Liverpool structure.

"Good, good. He is a pretty quick player and pretty confident, how you will hear in his [post-match] interview, but he is a good player – a really good player – and he did well. 

"The next challenge for him is now to get used to our defending and things. It will take time, no doubt, but when he has the ball it looks not so bad.

The 24 year-old said his introduction to his Liverpool career in a training sense has been a good challenge.

"The sessions have been really hard. But I have to try a lot to work hard and be ready.

"Every player made me a warm welcome. They helped me a lot to do my best on the pitch, to give everything. And all together we hope for the best."
.