Thiago Alcantara has put his own personal disappointment on missing one of the showcase events on the domestic calendar in context.
On the verge of kick-off for the Carabao Cup, there was raw emotion kickoff by the Spanish international when he had to pull out of the contest after suffering a hamstring injury.
After a difficult first season for the club, the injuries (and illness) had continued into the new campaign.But after returning from a nagging hip injury in early February, the 31 year-old had finally had put some momentum together with his quality clear for everyone to see.
Alcantara has played on much larger stages that a League Cup final, but while personally shattered in the moment of his injury, what instantly came into the mind of 31 year-old was the hardship that fans had been through during the pandemic which saw them missing out on seeing their team play for over a season.
Jurgen Klopp has often touched on the trials and tribulations of everyday life in relation to Football during these times, and Alcantara has the same kind of thought processes as he explained to the Official Site.
"It came to my mind that the last season was very hard for myself to try to be here and not having the fans in the stadium, not having this fun that this sport gives to you.
"Lifting a trophy is a special moment but it was more for the frustrating situation that everybody had the last few years. It was because of what we have been through and was a kind of celebration of overcoming that situation."
The veteran midfielder said one of the main things about missing a final is not to make it all about you despite how naturally disappointing it would be.
"We fought a lot to arrive in that moment, that you can play in a final, and then suddenly because I had a bad thing, a bad neck problem and it caused just like a chain of movement that in the end caused me an injury in the hammy.
"It's a moment where you are just frustrated. You just calm down a bit, you try to be cold enough to face the final. It was as it was. 
"We won it and, for sure, it's bittersweet that you don't play that game, but you're happy for the team."
Barring any late hitches, tomorrow afternoon will see Thiago walk out for his first Cup final for the club and being a connoisseur of the game, knows what the FA Cup means.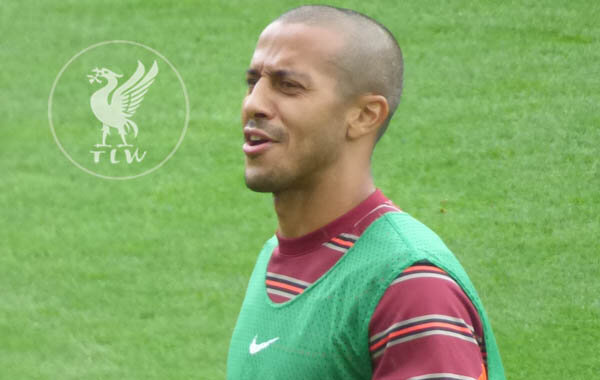 "We came from other countries – not just me but other players – and just met this amazing competition, the oldest in the world. We are really excited to play – not just the competition itself but a final. We're ready for it. 
"It doesn't matter if we didn't win [it] before or for a long time. It's just about a trophy that we can win and we add in our backpack this new challenge. We're looking forward to it. Wembley is an amazing stadium. It's special itself but then you know that Wembley is used for special moments. There's different context and we're ready to go to London."
Despite losing touch with the top two in the league and going through a considerable did of form, no one associated with Liverpool will underestimate the size of the challenge against Chelsea, who have not given a inch in their three meetings this season.
"It's a new game and we will prepare it as it must be prepared, nothing else. "[We] understand that we are playing against one of the best teams in the world and we know it will be tight, we know it's always difficult. 
"They want to take something that we want to take as well. It's a continuous fight with this kind of team. The best team will win."