Graeme Souness has delvered a scathing criticism of this current Liverpool team saying that they have turned into a team that everyone wants to play against.
The Reds fell to their fourth straight home defeat on Saturday losing 2-0 to Everton which saw the Toffees register their first win at Anfield since 1999, and first victory of any kind against their neighbours in 24 meetings going back to 2010.
To put this dreadful run of home form in perspective, It is the first time in 98 years that the Reds have lost this amount of home games in succession.
It is also the first time that Jurgen Klopp has lost four consecutive home games in his managerial career.
And just like the previous games, although their was promising signs in the build-up play, the lack of finishing quality in the final third was incredibly poor.
Liverpool proudly carried the tag line of 'Mentality Monsters" for the previous three season overcoming any adversity that came their way.
This campaign has seen bad luck, injuries and lack of form and confidence combine to completely derail any chance of a significant title defence.
To the contrary, the team now has a real job on its hands qualifying for Europe, let alone the Champions League.
Souness is a man that has never minced his words, and speaking on Sky Sports (via ESPN) after the contest, did not hold back in this thoughts about his former team.
"They're a shadow of a team.
"When you think what Liverpool have been for three years -- a team that no one wants to play against, a team that were always on the front foot, super aggressive, must have been horrible to play against them."
"And now everyone wants to play against them. They're an easy touch and that hurts me."
The pundit continued in his analysis by saying no Liverpool player came out of the fixture with any great credit attached.
"As a Liverpool supporter, I am deeply disappointed with my team. 
"It didn't look like they had any energy or any fight or any real aggression about them. The best team got the points. 
"I think there's no Liverpool player that can come off that pitch tonight and think 'I've had a good game tonight.''
With captain Jordan Henderson becoming the latest Liverpool player succumbing to another leg muscle injury, it will be down to Gini Wijnaldum to rally the troops on the pitch.
As for Klopp, a man who has transformed the fortunes of this great club since his arrival, this current situation presents itself as his greatest challenge.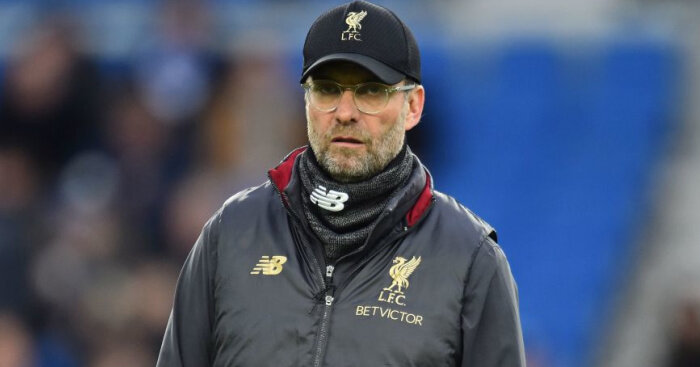 It is one that no-one could have ever foreseen as little as two months ago, but here we are and there is no hiding away from it.
Today may well be rock bottom, but there is not much time to feel sorry for ourselves.
There is a job to do and everyone needs to be on the same page.
We go again.