A bullish Xherdan Shaqiri has said that he is ready for more game time after his star showing against Everton in the Reds 5-2 victory on Wednesday evening.

The Swiss star was a surprise selection in the starting lineup especially when you take into account that he had not started a league game since the end of January and his last start in all competitions came on that memorable night on the 7th of May against Barcelona.

Before Wednesday night, Shaqiri played a grand total of 25 minutes in all competitions with his longest run-out coming in the Community Shield against Man City.

A long running battle with a calf injury has been the main reason for his lack of regular first-team action during this campaign, but after scoring his first goal in nearly a year and displaying his sublime skill, Shaq has made it known to all concerned including his manager that he is well and truly back.

The Echo reported the popular utility player as saying:

" I'm ready, I think the coach saw that too in training,"

"I trained very well and today he gave me the chance and I think I played very well.

" At the end of the day it's important to win games with my team, we won it as a team, and obviously when I can contribute it's always good. 

"Let's hope for more games!"
 
Shaqiri said despite the lack of minutes, rust was never a issue and he felt at home on the pitch.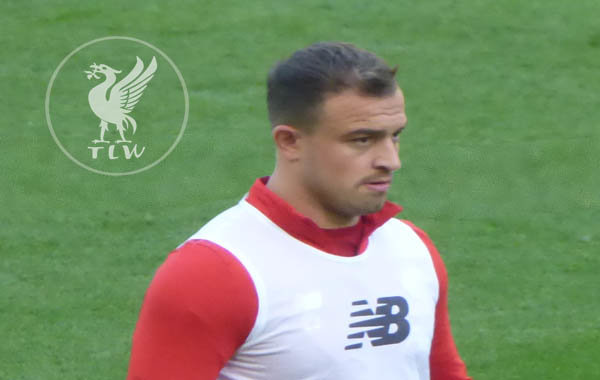 " You know me and how I play, so it's nothing new!

"I'm an instinctive footballer, so I like to play good football if I feel good. I felt good so I tried some things and it went well.

" I was very happy to score after a long time. It was a good feeling."

While the injury was undoubtedly a frustrating time for the 28 year-old, he counted his blessings that it was not something more serious like a ligament injury.

" I've been injured [but] thank God I don't have knee problems or something. I had some muscle problems so I just needed a few weeks to recover well.

"The calf is very dangerous to get another injury and I had this so obviously it was not nice but I stayed positive and tried to come back. 

"I worked very hard in the gym and with the fitness coaches to come back and be ready when the coach needs me. I'm feeling good."

Shaqiri was a player that Jürgen Klopp turned to around this time last season and he certainly did not let his manager down turning in some special performances against Man United and Arsenal in particular.

He is well aware of the jam packed fixture list during this month and says it is great to be option for his manager again.

"Everybody knows that it's a busy period now with a lot of games coming up, [so] I'm very happy to be back. I'm feeling fresh, feeling good, and I think you saw that.

"We know each other very well, we train every day together, the team stays like last season even when the coach makes some changes - five changes, I think.

"He changed the formation a little bit so it was not simple but we managed that very well today against a good side.

" [It's] a derby obviously so we wanted to keep the city red, so it was a very important win."