Mo Salah may have not have officially ended his eight-game goal drought on Sunday, but he certainly played a key role in Liverpool's crucial 2-1 win against Tottenham at Anfield.

The Reds were given a searching test of their title credentials against the North London outfit who had plenty of incentive to play a spoiling role, plus the fact that top four qualification was suddenly not a certainty for them.

After Roberto Firmino had given the home side the lead after 16 minutes, they were pegged back in the second half courtesy of a flowing move involving Harry Kane, Kieran Trippier and Christian Eriksen which was finished by Lucas Moura with 20 minutes left to play.

The visitors should then have gone in front when they had a two on one breakaway, but Moussa Sissoko wasted the opportunity shooting over the bar, although it must be said the presence of Virgil Van Dijk was instrumental.

With the clock ticking down in the game and quite possibly Liverpool's title chances with it, Salah headed a cross towards Spurs goalkeeper Hugo Lloris who for all intents and purposes should have handled it comfortably.

However the Frenchman inexplicably fumbled the ball onto the leg of his central defender Toby Alderweireld which subsequently rolled into the back of the net in front of the Kop.
The old saying of 'the agony and the ecstasy' was never more apt than in this situation for both teams.
 
Anfield broke into absolute jubilation as flashbacks of Jordan Pickford's mistake in the Merseyside Derby were relived.

Salah said the emotional impact of the victory could not be discounted.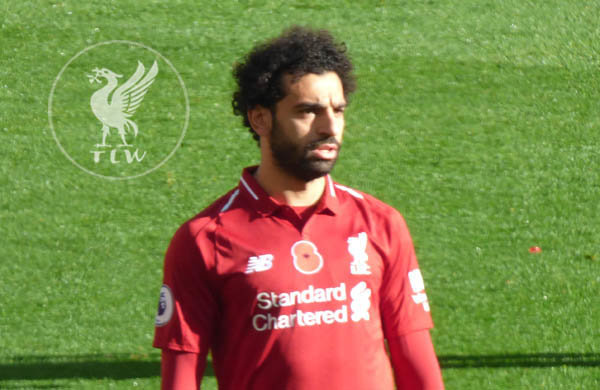 The Official site reported Salah as saying:

"It's a big difference, especially if you see the fans after the game – it was crazy," 

"They just really want to win the Premier League and we'll do everything to make that happen. They help us a lot during the game, the atmosphere and they push you hard to create chances and play better.

"Big teams always find a way to get the points. Maybe in the second half we didn't play at the top of our game but we won the game and that's the most important thing.
"That's a big team – you always have to find a way to win and that's what we did."

Typical of the man, Salah is putting the performance of the team ahead of any individual milestone and was not interested on claiming the goal for himself which would be his 50th in the Premier League for the Reds.

"The three points are the most important thing – if they give the goal to me is not very important, I don't care if not.

"I didn't score for a couple of games, OK. I just play and I want to win the Premier League, that's the most important thing for me."

The games continue to grow in importance as we enter the final month of the season with the Reds heading down to the south coast to play a Southampton team playing for their Premier League survival.

"Each game is tough now, there is more pressure. You just keep yourself in the race and you just need to win.

"Southampton want points, they want to stay in the Premier League, so they'll fight for their life also. We have to win each game."