Andy Robertson has outlined some of the key factors behind Liverpool's remarkable ability to find that extra yard in the all-important final few minutes of games this season.

Divock Origi was the man to score yet another late winner for the Reds when he headed home a Xherdan Shaqiri free kick against Newcastle to keep the title race going until the final weekend of the season.

Remarkably it was the 19th time that Liverpool have scored in the last 15 minutes of games which is the most of any team this season.

Many have wondered what is the key factor for Liverpool being able to consistently outlast their opponents.

The ability of Robertson to consistently track forward and back throughout the ninety minutes has won many admirers including Jose Mourinho, who spoke in amazement of his repeat sprint qualities in the aftermath of what was to be his last game as Manchester United manager last December.

The Liverpool Echo  reported the left-back as saying:

"It all started in pre-season when we put all those miles in to get us as fit as possible.

"We feel as if we're fitter and stronger than most teams and we can go right to the end. 

"That fitness has been key and it's enabled our quality to shine through. We're still going strong in the 90 minute.

"Div popped up with a header and it was unbelievable. It's not luck, we don't give up, we go right to the end and we'll keep doing that.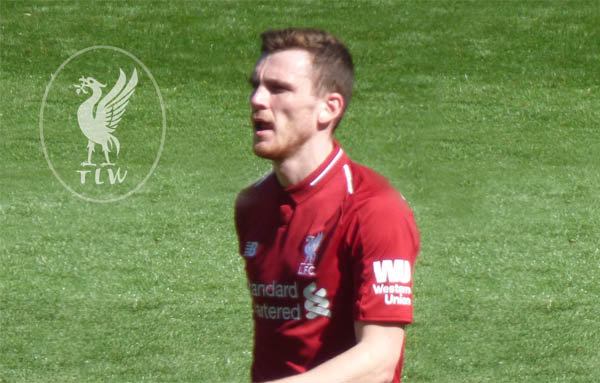 Robertson believed the squad can rest easy in the knowledge that they have given every last bit of themselves to the title cause.

"We're going into the final game of the season knowing that if we win we'll end up with 97 points. 

"It's been one hell of a season. Whether that's enough to win it, we'll wait and see. If it's not, I'm not sure we could do much more."

While Robertson and his teammates have plenty of issues to deal with during the ninety minutes, he spared a thought for those watching on.

"I was saying to one of the staff, it's probably easier being out playing there than being sat there watching.

"At least we can do something about it. The fans and the staff sit there helpless. It's easier playing for me.

The left-back said it was a case of 'job done' after the Newcastle game and now it is a case of hoping for the best in terms of Man City slipping up.

"All we could do against Newcastle was take the title race down to the final game and we did that. 

"We couldn't have won the title but we could have lost it.

"We've taken it to the last game and now we hope and pray for something to go our way on Monday.

"City have had eight days to prepare, there will be fresh legs and it will be tough for Leicester but we can always pray.

Robertson says he will watch City's game against Leicester, but with the second leg of the Champions League semi final against Barcelona the following evening, he won't be too emotionally involved.

"I'll watch it. Obviously we have a huge game the next day so I'll be resting up and I'll not get too involved. 

"(My) family will be down for the semi-final so I'll spend some time with them and let's see the result. But, like I said, we're not expecting anything."