When Andy Robertson steps out onto the Wanda Metropolitano stadium to face Tottenham in the Champions League final on Saturday evening, he will be looking to banish some bitter personal memories from 12 months ago and bring home some much deserved silverware to the red side of Merseyside.

While the naysayers will point to the fact that Liverpool's trophy cabinet remains empty during the Jurgen Klopp era, what is indisputable is the improvement of this squad which fell one game short of raising their sixth European Cup against Real Madrid in Kiev last season.

Just managing to reach the Champions League final in consecutive seasons is a major feat in itself and one that many esteemed clubs across Europe would love to achieve.

The Liverpool left-back told the Official site that it is just another step in their progression as a side.

"[It's] something to look forward to again, a huge achievement even getting there. I think you saw the other three semi-finalists never got there this season. 

"It just shows you how hard it is to go in this competition. We've done it twice in two years, but it's all about going that step further now and we have to try to make these steps to get what we want and what we think we deserve.

Robertson said the level of opposition that you face in the Champions League makes it an extra special feat.
"The Champions League is exactly what it says. I know it's not quite everybody's champions, but it's all the big teams in Europe fighting for one trophy. 

"You come up against so many good teams that to get there twice in two years is not easy and that's why not many people can do it. 

"Luckily with the way we've played this season and the way we've played against the big teams when we've had to, then we're here again. 

"We've had a wee bit of luck on our side as well but we're in the final and we look forward to it and now it's a one-off match against one of our rivals. It's something that we can look forward to."

The loss against Madrid last May didn't sit well with the squad throughout last summer. 

Robertson said the players fed off that pain and it played a major part in their fine start to the season. 
"We used that as motivation. We used it as motivation in pre-season - more so to get all the fitness in our legs, so we're ready and the determination to get off to a good start in the season. 

"Luckily we did that. I think teams can go one or two ways if they have that disappointment - it can easily set them back and they can struggle. 

"Luckily we've not done that whatever happens in the final."

The Scot also reflected on his two seasons at the club.
He said while last season was kind of a 'free hit' as he came into the side as an unknown quantity of sorts, his subsequent excellent performances led to lofty expectations and that was something he had to deal with heading into this campaign.

He is undeniably modest, but quietly satisfied that he has reached a new standard.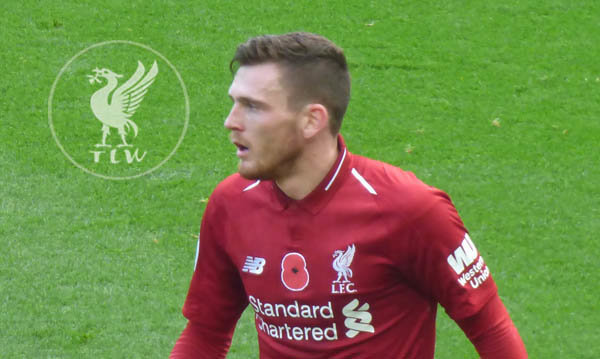 "Up to this point, I've been happy with how the season's gone. 

"Probably at the start of the season [there was] a bit more pressure on me this time. I came in December time last season and just kind of managed to hit the ground running and didn't really think about it. 

"But people expected it of me this season and it's up to them to decide. 

"But I hope that I've not let them down and I've produced similar performances, which I think I have. Numbers - like clean sheets and assists - are a lot higher probably than last season and they're the key numbers for me."

One thing that Robbo is certain of is that the Reds are expecting one hell of a fight for the trophy from Tottenham. 

"I don't think anyone doubts that. The fans that are going over will have watched Tottenham for the last couple of years under [Mauricio] Pochettino and we all know Tottenham always play well against us. 

"They always seem to give us a good game and last season they got the upper hand on us. 

"This season we turned that around a wee bit. But I think the game at Anfield proves that we were quite lucky, they had a few big chances - but we were going for the title, so we had to win it and luckily we got a bit of luck right at the end.

"But Tottenham are a fantastic team with an unbelievable manager and they have quality the whole way through their squad. 

"Hopefully it'll be a good game, but one that we come out on top."

The left-back saved a special mention for the supporters who have been on this special ride with the team every step of the way this season.

The fans have a clear love for the 25 year-old former Hull man as they identify with the fact that nothing came easy for him and he had to fight tooth and nail to make a career for himself.
A personalised flag unveiled on the Kop at the Wolves game was due recognition.

"It means the world. Seeing the flag on the last game of the season, it's special. You don't see many players that are getting up in the Kop and things. 

"It was great to see. It was good to see my brother fly the flag... I'm joking! It was a great moment to see that and it just shows they appreciate me on the park."
You get a sense that the fans will be in the forefront of their mind come Saturday night.

"As a squad we don't want to let the fans down and we don't want to let the club down.
"We believe we've done that this season, but we've not produced a trophy. 

"That's the only way you can really repay the fans. We've got one more crack at it and hopefully we can deliver that for them.

"We know how happy that will make them if we can take that final step and go and lift the trophy - it's what they deserve."