New details have emerged over the altercation between Raheem Sterling and Joe Gomez while on England duty.

The much discussed incident has created a deal of embarrassment for the national team ahead of their Euro 2020 qualifier with Montenegro.

It caused national team manager Gareth Southgate to take the step to stand down the Man City star from the fixture.

The friction between the pair began in the last few minutes of Liverpool's 3-1 victory on Sunday when they clashed and words were exchanged.

The incident on the day looked pretty innocuous and when the English players gathered in camp, the mood was said to be quite relaxed.
However The Mirror (via The Athletic) reports that things took a different turn when the two players came face to face.

Gomez had initially said "Hello" to Sterling to which the forward replied.

"So you think you're the big man?
That line saw plenty of laughter to everyone in the room but Sterling.

He then reportedly rose to his feet and attempted to get Gomez in a headlock, knocking food over on the table in the process.

A eyewitness to the incident claimed that  "It was a pretty full-on thing and food went everywhere. 

"Sterling behaved like a bit of a child."

Gomez was left with a noticeable scratch mark on his face following the incident.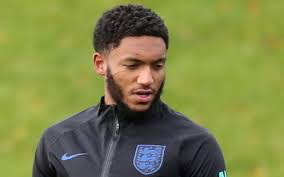 Leicester City defender Ben Chilwell said that both players have since aired their differences in front of the squad and put the issue well and truly to bed.

"Raheem wanted to apologise and Joe wanted to get stuff off his chest as well. It's not been spoken of since.

"[Raheem] was apologetic, he said it's not in his nature, which it's not, but we all know as football players emotions can run high. 

"No one's trying to make excuses for him.

"Raheem has come out and said what he thought. We are in the changing room this morning and everyone is fine.

"Joe is OK. He's good. Himself. 

"He's a great character and has done very well. It wasn't on anyone's mind this morning

"It is very important not to forget what Raheem has done for English football. Yes he has made a mistake but he's a very important character in the dressing room."

While Sterling's international teammates and coaching staff may want to forgive and forget the incident, its fair to say Reds fans will keep the matter firmly in the forefront of their minds.