Takumi Minamino could be set for a permanent move away from Liverpool according to reports.
The Japanese attacking midfielder is currently on loan at Southampton after struggling for consistent playing time at the Reds this season.
Minamino had made 17 appearances for Liverpool during in all competitions during this campaign but only played the full 90 minutes on five occasions ( two which came in the League Cup.)
Given the current injury crisis, Jurgen Klopp would have been well within his rights to hold onto the 26 year-old, but the manager is always one for what is best for the player and their career.
Minamino has made a instant impact on the South Coast scoring two goals in three consecutive starts.
The question has often been asked where Minamino truly fits in this Liverpool set-up and according to new report, he may be deemed surplus to requirements.
Spanish publication La Razon (via The Daily Star) say that Minamino may be used as a makeweight in a deal for Sevilla winger Lucas Ocampos.
While only 26, The Argentina international is well travelled having played in France (Monaco/ Marseille), on loan at Genoa and AC Milan in Serie A and currently plying his trade in Seville.
Ocampos has been at the current Europa League holders for since the start of the 2019/20 campaign and has made a undoubted impact.
Last season he was a vital player registering 17 goals (14 in the league) and five assists in 44 appearances, while in 31 appearances in 2020/21 he has scored five goals and registered four assists.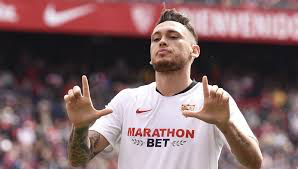 The winger has a release clause of £56 million while Minamino is valued at £10 mill meaning that the Reds will have to fork out £5 million more  than they paid for Diogo Jota last summer.
With the likes of  Xherdan Shaqiri, Divock Origi and a few other fringe players set to be offloaded in the summer,  that fee shouldn't be an issue if Klopp gives the green light on the deal. 
The scouting report on Ocampos gives an idea on why Klopp would be keen on signing him.
"One of Ocampos' abilities in the final third is intelligent movements on the flanks when he's used in a 4-3-3 system, either on the right, which is his preferred side, or the left wing.
"His pace and the way he bursts in-behind the opposition's line is unique and this gives his team many options when attacking down the flanks, including scoring and assisting.
"Creativity in dribbling is also something he excels at as he makes 7.79 per game along with a focus on ending attacks and turning them into goals – this is one of Lucas' most important features in the Sevilla offensive system.
And the fact that he contributes when the team does not have the ball is a intriguing element to his game.
"His defensive positioning helps him to intercept passes from the opponent, specifically on the flanks, and even when he goes inside the pitch, he even reached a ball interception ratio of 3.83 per game.
"The main role in (Sevilla manager Julen) Lopetegui's formation in the 4-3-3 system and his team's tactics is to utilise his physicality, aggression, and speed that can help him surge back when needed as well as block the passing channels for the opponent who has the ball.
Just as there are strengths to his game, the weaknesses of OCampos are also documented.
"One of his weaknesses that appear during the matches is that he sometimes holds onto the ball when in possession for far too long, resorting to deal with the situation on his own rather than involving his teammates.
"While this can certainly be a positive in certain situations when his skill creates an advantage in tight areas or during a fast break, it also means that sometimes he ends up losing the ball in dangerous areas of the pitch."
There will be many players linked to the Reds between now and the summer and a great deal of them will have no substance attached, however this could be one to follow with some interest.