Liverpool are said to be one of the main clubs interested in Ousmane Dembele should he become available on a free transfer next summer.
The 24 year-old French international came to Barcelona in August 2017 with a high level of expectation as the Catalan club paid Borussia Dortmund in the region of £100 million for his services.
At the time the transfer was the second highest on record only eclipsed by Neymar's £200 million move to PSG a few weeks prior and hopes were high that Dembele would go a long way to filling the boots of the Brazilian.
However it is fair to say that the undoubted talent has fallen well short of expectations due to a catalogue of injuries which has seen him miss close to 100 games in his four and a bit seasons at the Camp Nou.
Dembele has suffered six separate hamstring injuries and the latest setback with his troublesome leg muscle has seen the forward go under the knife after he injured while on international duty with France at Euro 2020 and is yet to play this season.
His current record with Barcelona stands at 30 goals in 118 appearances. 
Barcelona are just one of the clubs who are doing it extremely tough in the current financial climate and are slashing costs to their wage bill.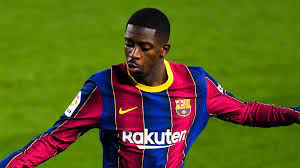 Teamtalk reports that they have asked Dembele to take a reduction in his weekly wage, which is estimated to be around £200,000 a week.
With the Rennes junior coming out of contract next summer, there is a growing indication that will reject a new deal and look to make a fresh start.
This is reportedly where the Reds come in as a refresh of the front line is looming on the horizon with Roberto Firmino, Mo Salah and Sadio Mane either just turned 30 or on the verge of doing so.
The signing of Diogo Jota has turned into a masterstroke with the 25 year-old fitting seamlessly into the squad.
Divock Origi and Takumi Minamino are further options at Jurgen Klopp's disposal but have failed to display the level of consistency required.
This is not the first time that Dembele has been linked to the Reds as there was a level of interest before he joined Barca and Jurgen Klopp is a fan of the player.
However they will have plenty of company for his services if he becomes available on a free with a number of big clubs interested including Bayern Munich, Juventus, Man City and Chelsea, while newly cashed up Newcastle will be on the lookout for players with a deal of talent.
The Liverpool transfer hierarchy have proven themselves to be very selective when it comes to signing players.
Despite noise from the outside, they are never hurried and wait for the right moment to make their move.
This could well be another example of right place and right time.