This week marks 15 years since the greatest ever comeback in the history of the European Cup.

And with any game packed with as much drama as the 2005 Champions League Final, there are many great stories to be told and this anniversary is no different.

Firstly, Rafa Benitez the man in charge on that fateful evening recalls what went through his mind when Liverpool were 3-0 down at half time and how he tried to keep the confidence up within his squad.

"We weren't favourites because their players were top level, but we got there with a lot of confidence and we were convinced. Despite the fact that things weren't perfect from the beginning because we made a mistake which led to a foul, and they were up 3-0, I tried to transmit confidence during the interval.


"I tried to keep the competitive spirit in the team and I thought that with any luck we could end up being the better team. 

"For their part, players like Jerzy Dudek and Djimi Traore were thankful that the manager gave such a measured message and didn't rant and rave like many would in his position. 

"Rafa is always calm, that was his big strength," Dudek said.

"Even when we were losing, he always gave us advice without any panic or shouting. Some coaches were mad during half time, on fire, shouting and pointing. He was always calm. He said 'OK, no more discussions, this is what we do'.

"Our heads were down but one thing I remember is we said we need to go out and win the second half for us, for the fans, our family and everyone who believed in us," Traore recalled.

"So if we won the second half then OK, that is the way it is. And the last words, we said if we scored inside 15 minutes then maybe we could come back. But no-one believed that, really.
Benitez made some subtle tweaks during the break and was confident they would come off.

"We improved when we switched to three at the back, which gave us more control in midfield. 

"And then when it went to penalties, that was a result of luck and hard work because of the five penalty takers Milan had, we knew about four of them very well and where they usually shot"

One of the many heroes for the Reds on that evening was Dudek and he explained how he struck up a relationship with one of the players that he had a personal battle with on that evening in Andriy Shevchenko who still could not believe the performance of the Polish keeper.

"We were in Cardiff, working together as part of the joint bid of Poland and Ukraine to host Euro 2012.

"We had got to know each other quite well during the campaign, and that day Sheva finally popped the question.

"F***ing hell Jerzy, you can tell me now – how DID you make that save in extra-time?'


Dudek's response was first class.

"I smiled at him. 'Don't worry, mate,' I told him. 'You had your five minutes against Juventus in 2003, and I had my five minutes in Istanbul!'

Dudek says his heroics throughout the penalty shootout and extra time remain a blur to this day.

"The truth is, I can't explain how I saved it.

"It is one of those split-second things, where you rely on instinct, reflexes and, of course, a little bit of luck as well.

"Do you know, for a long time after the final I thought that the initial header was from Jon Dahl Tomasson?
"I knew there had been two Milan players free in the box, but after that it was just a blur.

"When I watched it back, I saw that Sheva had headed the first ball and then the rebound, and I think that was what gave me the chance to save it.

"He wanted to put all the power into it, and I was able just to get my hands in the way.

"I never saw a ball fly so high in the air, and when it landed on the roof of the net, I said to myself, 'F*** me, we needed that!'"

Meanwhile, the brilliant former Milan and Juventus midfielder Andrea Pirlo gave a fascinating and typically frank account of his emotions.

"I thought about quitting because, after Istanbul, nothing made sense any more.

"The 2005 Champions League final simply suffocated me.
"To most people's minds, the reason we lost on penalties was Jerzy Dudek – that jackass of a dancer who took the mickey out of us by swaying about on his line and then rubbed salt into the wound by saving our spot kicks.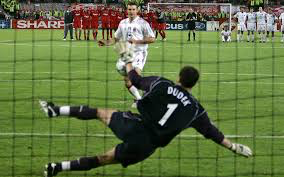 "But in time the truly painful sentence was realising that we were entirely to blame. 

"How it happened I don't know, but the fact remains that when the impossible becomes reality, somebody's f***ed up – in this case, the entire team. 

"A mass suicide where we all joined hands and jumped off the Bosphorus Bridge.

"When that torture of a game was finished, we sat like a bunch of half-wits in the dressing room there at the Ataturk Stadium.

"I've tried with Istanbul and haven't managed to get beyond these words:
"For f***'s sake."