Tonight when Jordan Henderson leads Liverpool onto the Stade de France pitch their focus will be on one thing only and that is raising the European Cup for the seventh time.
There will be difficult moments throughout the 90 minutes (and possibly beyond) that they will have to negotiate, but as a battle hardened group this squad has certainly been through plenty of those occasions.
Arguably one of the most difficult periods in the modern era for Liverpool came last season amid a global pandemic, no crowds and a squad ravished by serious injury.
Rather than building on the title win from the season before, Jurgen Klopp was flat out putting a fit and functioning starting eleven on the pitch, which included plenty of square pegs in round holes.
But there is a saying that 'from adversity comes opportunity' and there is no greater example of that than Nat Phillips.
In truth, the unheralded Bolton Wanderers junior and Liverpool academy graduate was way down the pecking order in a fully fit central defence. But after losing three key members of that collective in little over three months, it meant that the 25 year-old was now depended on to play a key role.
Liverpool fans love a player who gives their heart and soul into a performance even if they are not blessed with technical skill like a Virgil Van Dijk style for instance.
Phillips played every game like it was his last, throwing his body into every challenge and wearing bandages on his head like a badge of honour.
In turn, he developed a cult following and while Liverpool were not playing for any honours, their quest for silverware in a metaphorical sense came in chasing a Champions League.
In the run home he was teamed up with Rhys Williams and despite their inexperience, the performances they produced during the most tense of the season is a redeeming memory of that season.
After spending the second half of the season on loan at Bournemouth, the next chapter in the Nat Phillips footballing journey is yet to be written, but despite being humble about his role with the Reds, he reflected to the Echo on the challenges they faced together.
"In a way for Rhys and me it worked nicely because we were both going through the same thing together. Having been thrown in and having to perform and play at that level, with those expectations on us where neither of us would really have anticipated it at the start of the season.
"There's a fair amount of pressure to deal with and you're also desperate to do well for your own benefit and for your team-mates and the staff as well because you know they're relying on you so you want to do well for them. We were both going through that together and that probably helped our partnership.
"It just meant we could communicate well with each other, we could help each other and we were just desperate to work well together and do a job in order to do the club, the fans, our team-mates and the staff proud."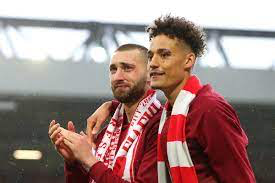 As a professional sportsman, you get your fair share of plaudits but sometimes the greatest thrill comes from proving people wrong which is what the Liverpool dressing room set about doing at the time.
But even the most optimistic Red would have been concerned heading deep into injury time at the Hawthorns last May.
What happened next is something that vividly remains with Phillips.
"The one that stands out and the one when the emotion came pouring out of me, I was so elated and ecstatic, was when Alisson scored at West Brom. The way the game was going, it felt worrying. You could just see the time ticking away.
"You're thinking we've got to get something and are desperately looking for where it would come from. Sure enough Alisson steps up and nods one in, and he managed to nudge me out of the way in the process!"
Like any defender Phillips loves nothing better than challenging himself against the very best and he more than held his own when coming up against the likes of Karim Benzema and Zlatan Ibrahimovic.
While the Reds were knocked out by the Madrid giants last season, in a personal sense Phillips looks back at the second leg with a great deal of pride and big step forward in his football education.
"That's a game where I look back, and I've seen it back and seen my performance, and I'm happy with how I played. To have kept a clean sheet against Real Madrid and to have played well in that game is certainly something I do, and in future will, look back on with pride, even though the result didn't go the way we wanted to and we didn't progress.
"That evening I certainly didn't feel like that, I was gutted and still was in the days after. But as time passed and more time passes, it's something I can feel more proud about rather than concentrating on the fact we didn't progress."
 While Football is a ruthless and unforgiving business, Klopp never forgets the human aspect and those who have paved the way for others to follow.
On the night that Phillips was winning promotion with the Cherries, Klopp was negotiating stormy waters in Spain before guiding the Reds to this stage of the competition.
Despite being involved in such a important fixture, one of the first people Klopp messaged after the win against Villarreal was Phillips.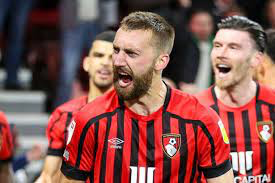 "It says a lot about him. It was a really nice surprise; quite a few of the Bournemouth lot mentioned it as well. It shows what he's like as a manager and what he's like to work for and why he gets so much out of the players because that is how he'll treat you as a player and as a person
"His text message was initially just congratulating me on the promotion. Even that, I was surprised to receive that to be honest because I was aware he had a big game that evening.
"I was surprised that it had even crossed his mind that I had that game. I said "Likewise to you guys for getting to the final.
"In response to that, he just said, "You played a big part in that." It was really nice to hear and nice of him to say that. It's something I can be proud of."
Phillips will be in Paris for the showcase event and is thrilled to witness this relentless team in action.
"Anytime the club reaches a final and there's an opportunity for success, I'm delighted for the club and delighted for all the staff and my team-mates. I see all the work that goes into it.
"I'm so fortunate to be in a position where I can go and watch these games and go and support the lads. To see this standard of football and these moments first hand, I can't wait for it."