Alex Oxlade-Chamberlain has spoken of his joy of being a part of European action again after playing a major role in Liverpool's 4-1 victory against Genk.

The Champions League was where his Reds career was put on hold 18 months ago after sustaining a serious knee ligament injury against Roma.

So began a gruelling rehabilitation process and the frustration of spending time in the sidelines while his teammates were making major progress on the pitch.

To the midfielder's great credit, his attitude was first class throughout and got his due rewards on Wednesday evening when he scored two goals in Liverpool's first away group stage victory in two seasons.

The Official site (via BT Sport) reported Ox as saying:

"It's nice to be back out there. it's a special tournament to play in, a competition we all grew up wanting to play in one day.

"It was nice to be back out there [after] seeing the boys do so well in it last year. 

"I was fortunate enough to get back involved on the bench for the big day in the final and watch the boys bring it home.

The two goals were the England international's first since his strike against Man City in the first leg of the Champions League Quarter-final in April of last year.

While the 26 year-old was just happy to be of the action again, Oxlade-Chamberlain admitted it was nice to be back on the scoresheet, with his second strike displaying his all-round technical skill.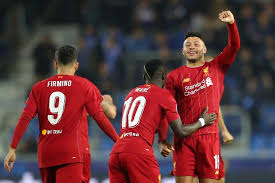 " It's inspirational, it's something I've wanted to get back to do. 

"It's just nice to be back in the starting line-up and try to put in a performance to help the team. 

"To get a few goals was a bonus."

The fan favourite said the team while happy with the three points, were not truly satisfied with the overall performance.

"The first half, we got a bit sloppy and we've got to do a lot better than that if we want to go further in this competition," said the midfielder.

"Second half, it was quite mature and we controlled the game. We're disappointed to concede but it was a good night all round really.

"We had a lot to improve on from the game at the weekend, same again tonight. But at the minute we're getting results which are good and we can still improve. 

"We'll take a lot from this game."