Football never manages to disappoint with its ability to surprise during the course of 90 minutes, just ask Divock Origi.
After spending last year on loan at Wolfsburg, you could be excused for forgetting the Belgian striker had returned to the club, as the opportunities have been few and far between for the 23-year-old this season.
Origi has seen just 11 minutes of first-team action for the Reds to be exact be exact which came in the disappointing 2-0 defeat to Red Star Belgrade in Matchday four of the Champions League.
So when Jurgen Klopp called his number to replace Roberto Firmino with six minutes remaining and the scores locked at 0-0 in a tight and tense Merseyside Derby, there undoubtedly would have been a raised eyebrow or two amongst the Anfield faithful.
As a striker, you can toil for 90 minutes of action and fail to get a decent chance at goal but Origi made his presence known from the moment he arrived on the pitch.
After a strong run and cross which set up a corner, he had a clear-cut opportunity when Virgil Van Dijk headed down into the path of the striker.
Origi was in the perfect spot, but somehow managed to hit the post from a few yards out with only Jordan Pickford to beat.
With the clock ticking down, it appeared to be one of the final chances and two crucial points dropped in the title race.
However, the old adage of playing till the final whistle was never more apt in this clash, and in the 96th minute a speculative looping shot by Van Dijk was completely misjudged by Pickford.
The English international palmed the ball back into play and after bouncing along the crossbar, Origi was in the vicinity again.
Unlike a few minutes prior, this time he made no mistake, nodding home his third Derby goal for the club, sparking euphoria amongst the Liverpool players, fans and coaching staff alike.
It was a fine time for Origi to score his first league goal in over 18 months (May 2017 vs West Ham to be exact).
Speaking to the Official site after the game, he still seemed to be in a sense of disbelief about what occurred.
"It's unbelievable. Derbies are always special, I've played in a couple of them and I've scored in a couple of them but this one was the most crucial one, so it is very, very special for me."
When you are on the fringes of a side who is playing well, it would be easy to get downhearted and drop your head.
It was testament to the character of Origi that he wanted to play an impactful role when he came on.
"I had the first chance and it was Virg, so I knew there was an open ball.
Then I just played on my instinct, I was so hungry to help the team and give whatever I could. I had a good action before down the side but I wanted to be in [the box].
"Thank God, it came in front of me."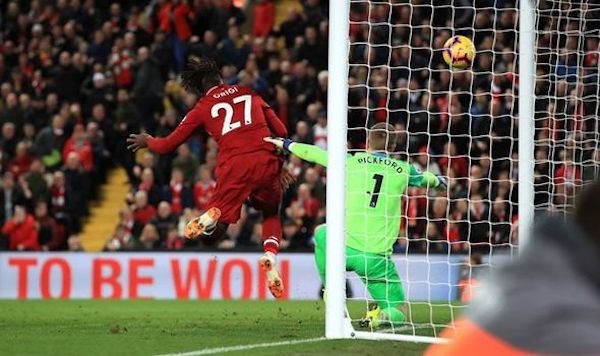 It is these moments which help you win titles. While the disappointment would have been palpable in the Blue side of Merseyside on Sunday evening, Pep Guardiola would have had a wry grin wiped off his face once Origi nodded home.
For Divock Origi and the fortunes of the Reds this season, the second of December 2018 could certainly be a defining date to look back upon.