Divock Origi may have made some telling contributions throughout this season, but none compare to what he produced in Liverpool's stunning 4-0 triumph over Barcelona which sees the Reds move on to their second consecutive Champions League final.

Making his second consecutive start in the continued absence of Roberto Firmino, Origi scored the first and the all-important fourth goal  which sealed Liverpool's path to Madrid where they will play either Tottenham or Ajax on June 1st.

After starting the season firmly in a back-up role and with his Liverpool career well and truly at the crossroads, the Belgian deserves all the credit for stepping up to the plate when he was called upon.

It is a terrific example for others in a similar position to be always ready because you never know when your time will come.

While he has had a mixed time of it at the Reds, the 24 year-old has now been part of two sensational fight backs after playing a key role in the quarter final win against Borussia Dortmund in the Europa League in 2016.

Speaking after the game Origi was on cloud nine.

The Official site (via BT sport) reported Origi as saying:

"It's just special. It's hard to describe with words. You can feel it, you can hear it. Unbelievable.
The striker said the squad knew they had had to produce a herculean effort to get over the line, not only because of the three goal deficit coming into the second leg, but with the absence of Mo Salah, Firmino and Naby Keita from last week's match at the Nou Camp.
The task was made even more challenging when Andy Robertson was withdrawn at half time after a coming together with Luis Suarez.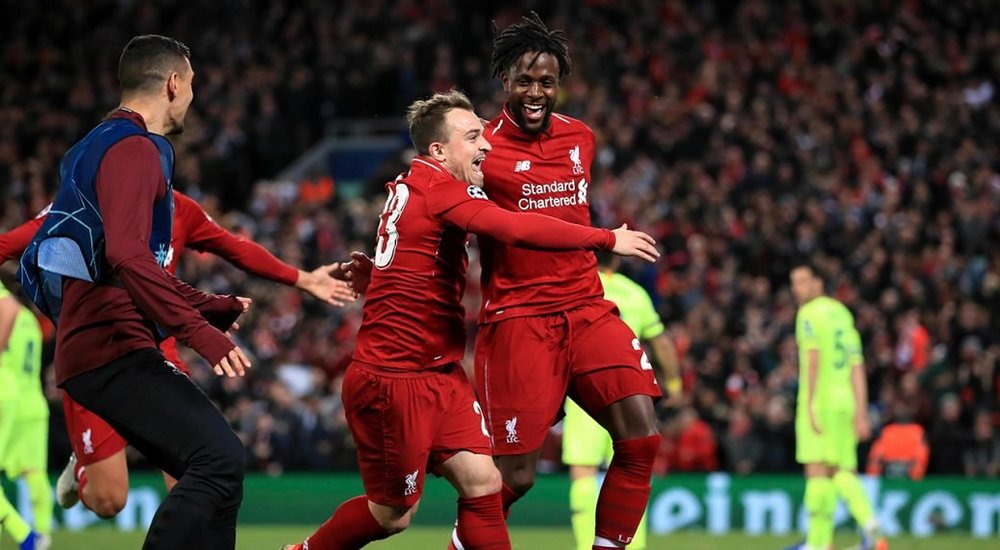 " We fought so hard. Robbo's a fighter and we knew it could have an impact of the players. 

"Even me at the end, I had some cramps.
"We did it. It shows we have a good mix of talent and hard work. It's special for us because we go to the final this time."
Trent Alexander-Arnold, the player who helped set up Origi for the fourth goal with his terrific quick thinking from a corner, said it was all about instinct.

"I think it was just instinctive.

"It was just one of those moments where you see the opportunity and obviously Div was switched on to finish it off. 

"It probably came at him a bit fast but he's a top player, scored two goals for us tonight and I think it's one of them where everyone will remember this moment."