Neco Williams has spoken about his true joy in signing a long term deal with Liverpool.

The academy graduate made major strides in during the past campaign making eleven appearances in all competitions which three straight league starts to end the season.

The Welsh youth international has gone a long way in cementing his role as Trent Alexander-Arnold's understudy and after signing on the dotted line told the Official site that this is just the beginning.

"It feels amazing.
"At the minute for me, I think there is no better place to learn and to become a better player than being here and working with the lads. 

"I think we've got some of the best players in the world and we're one of the best teams in the world, so I think for me personally, especially learning off Trent and Robbo every day, getting their advice, seeing what they say, it's only going to make me a better player.

"In training I am learning from what they are doing, they are giving me advice on what to do attacking-wise and defensively. I am learning massively – there is no better place to be at the moment.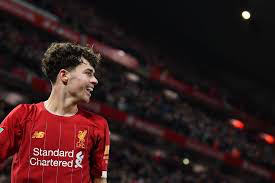 Williams is certainly not content with making the senior squad, and says that he wants to keep Alexander-Arnold on his toes. 

"My aim at the moment is to try to close the gap between me and Trent and give the boss a decision to think about and give him a bit of a headache, but I know I have got a long way to go. 

"I am only 19, I am learning and my aim is to keep working hard, to stay humble and hopefully this season I will keep getting the games in and the game time. That will only make me a better player.

With all the progress and acclaim that has come the way of Williams of late, you could understand that the youngster would let it all go to his head.

However it has not changed his mindset one bit. 

"Off the pitch, yes, it has changed, but I am still the lad I was two years ago, I am still exactly the same person. 

"I am still humble and I know where I come from.
"Being with the senior squad now, out of football life does change a bit because you're a role model to people now, so it is a bit different with fans coming up to you and wanting pictures and stuff like that. 

"It is always a good experience for me when I come here and I learn things. Now I just think I've just got to keep working hard, keep doing what I have been doing and hopefully then I will have a good career.

Jürgen Klopp was understandably delighted with the signature and said the work ethic of Williams has been clear from day one.

"Great news. Great news for him, great news for us.

"I think Neco is – how young players are – they are kind of 'projects'. I don't want to use that word, but with my English I don't have a better one. 

"There is a lot of work to do, but there is already a lot of skills and potential there and that makes it so exciting.

"Neco from the first day he trained with us, he trained like a machine.
"Every day he became better and better and better and I thought, 'OK, what's that?!' Unfortunately then, in the moment he started playing for us, I saw it, he got a little physical knock, like it was always really intense all of the time. 

"But then he had to play.

"The last game of the season against Newcastle is a really good example – first half, struggled slightly, [but] second half he was there.

"That's exactly him in the moment and there is so much positivity about this kid that I am really happy we have him here. 

"That's very important for me because he is our boy and it is the perfect place for him in the moment because we don't rush his career."