Paul Merson has showered praise on Jürgen Klopp saying he take any team into the the top league of English Football.

Merson became the latest Sky Sports pundit, following his colleagues in Gary Neville and Jamie Carragher to give the German the due credit he deserves.

"I'm a great lover of Jurgen Klopp. I could use any team here, but I'm just going to say Rotherham.

"I think Klopp could go to Rotherham and take them to the Premier League in time. 

"He's that good."

The Arsenal legend then identified some players who Klopp has been able to fit into his system and in turn become key players, in direct comparison to what Pep Guardiola has done with Man City.

"He gets players in and plays them the right way. 

"They don't have household names. Jordan Henderson, Gini Wijnaldum, Fabinho. 

"People talk about the full-backs, but if those three don't play, I don't think it actually works as well for Liverpool.

"I know Pep Guardiola's record is great, don't get me wrong, but every player is £80m, £90m in every position. 

"I haven't seen anybody at Manchester City become much, much better, they were already great players."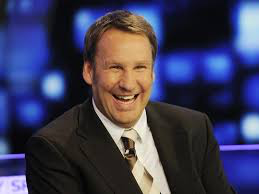 Merson believed despite the outstanding season that Liverpool have had to date, they are not getting the respect they are due.

Something he struggles to understand.
"Why are Liverpool not favourites to win the Champions League? They've been at two straight finals. 

"Manchester City haven't even looked like winning it, and they are favourites.

"I don't think Liverpool get the respect they should get; this is the best team in Europe by some distance.

"If you want to beat them, you need two or three goals. They don't go to park the bus. 

"You watch them against Tottenham, they were 1-0 up and they still bomb forward, it's in their make-up, and they can defend.

"When you can defend like that, you're always going to dictate football matches.

"I can only really see Man City beating them."