Liverpool may have fallen short in their quest for another European Cup, but the aftermath has left a lasting impression on one of their young stars.
In a campaign where the Reds pushed themselves to the very limit fighting on all four fronts, they ended it with a very respectable two trophies to add to a growing tally in the Jurgen Klopp era.
Trying to put a brave face on after a bitter defeat is never easy and there was some doubts about how the general mood would be for a pre-planned parade celebrating the achievements of the team the day after the Champions League final.
While there would be sets of fans across the country who would struggle to generate the enthusiasm needed for such a occasion, as we have seen over the years Liverpool fans are extremely unique in their love for their team.
And for a relative newcomer like Ibrahima Konate, it completely took his breath away and something that will stay with him as he told the Official site.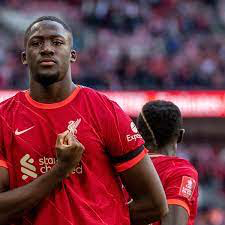 "When we started (the parade), for me it was already crazy, the first 20 minutes I was very happy. After, I enjoyed it a lot but I was a little bit tired.
 After one or two hours I spoke with Divock and Ox and they said, 'What? Are you happy now? OK, wait, you will see.' I said, 'What will I see?' 
"At the end, when we arrived in the city… [puffs out cheeks] I was really not ready for that. Oh my God. I will never forget this moment.
"Maybe yes, one of the best days of my life because how you can do that; in my head I imagined if we [had] won the Champions League…!
"It was a very, very great moment for me and my family and I hope we will enjoy it like that a lot of times with Liverpool."
As is the case with most new signings, Konate took time to find his feet and learn the tempo of a new league. Not a great deal was known about the 23 year-old when he signed from RB Leipzig, but as his confidence grew, his various strengths and personality came into play and by the end of the season, he was a firm fan favourite as well as a regular selection in the first X1. 
One of Konate's main strengths is his physical build which allows his to outmuscle  his opponent which is vital in a defensive sense, can be a real asset when it comes to attacking set-pieces as he showed in the latter part of last season with some really important goals in big games.
He spoke about the words of wisdom that he got from none other than Thiago Alcantara.
"It was good for the team, that's more important. When I scored the first goal, after that I was confident. I hope this season I will score more than the last season.
"I spoke about this one time with Thiago in training and he told me, 'When you go you have to believe. You are strong, you are big, you have to go.' I said, 'Yes, this is a good word for me.' And I did it."
For a younger player, the beauty about playing for a team like Liverpool is that there is no end of players who are happy to pass on some telling advice and in terms of central defenders, some of the best in World Football.
Konate spoke about what is was like to play alongside Virgil Van Dijk, Joel Matip and Joe Gomez.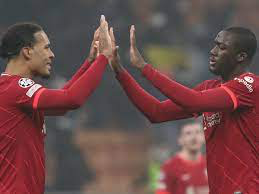 "For sure I improved a lot with him (Van Dijk). I improved with him because I learn about him, I look how he plays."But not only him, I learn with also Matip and Joe because we play in the same position. Everybody knows Virg is the best defender in the world and I look a lot at how he plays, how he thinks, before the game he knows a lot of players.
"I take inspiration from him and a lot of players in the world, but with him I have the chance to play with him and to train with him. I think it's just the start and I hope year after year I will learn, learn, learn again.
"I hope one day I will be like him or better one day. I hope!"