Liverpool made their third signing for the summer on Monday when former West Ham and Real Betis goalkeeper Adrian joined the club as a free agent.

The 32 year-old veteran was signed after long term servant of the club Simon Mignolet decided to move on in his quest for first-team football opportunities.

The Belgian has returned home to play for Club Brugge meaning that a replacement keeper needed to be found.

While there were plenty of speculation over who the player would be, the Reds acted very swiftly in signing a player with vast experience in the Premier League.

Adrian made 150 appearances for the Hammers during the the past six seasons, and was twice runner-up in their player of the year award.

Jurgen Klopp told the Official site about how pleased he was to bring the Spaniard to the club.

"I think this is the perfect solution for us in this moment, replacing talent and experience like for like.

"With Ali and Simon, I felt like we had two 'No.1s' and in many ways we have repeated that with Adrian. This is important.

"He is a keeper who knows the Premier League, who has played in pressure situations and has the highest quality.

Klopp made no secret about how much he rates Mignolet but he is very confident how the new man will fill the back-up role.

"They are big gloves to fill because Simon was such an outstanding professional and contributed to the group even when not in the starting XI. 

Everything we know about Adrian tells us he has the personal qualities to go with his clear playing talent to ensure this area of the team is not weakened.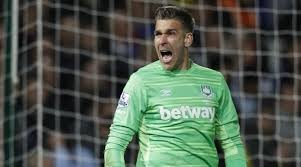 Meanwhile, the man himself was thrilled to join the Reds and told the Official site  about the moment he got the call and why it is the perfect move for him at this stage of his career.

"We spoke every day with my agent and we had other options to move, because I finished with West Ham as a free agent last season. 

"Finally, the last call was yesterday was to go to London to do all the stuff. Obviously I'm really happy to be here.

"It's a great step in my career right now, after six good seasons at West Ham.

"I got experience in the Premier League and I'm coming to a big club to fight for everything 

"It's a good challenge, a big challenge for me to face, challenging with big players here.

Adrian said he couldn't wait to team up with Alisson who he described as a 'great keeper' and who had a 'magnificent last season.'

But he is not someone to just be content with a place on the bench and said he would keep the Brazilian on his toes.

"I'm very ambitious. I come here to try to win everything, to try to push Ali from the first minute and to make us better. 

"Obviously I want to win titles, so I come here to fight for all the competitions. 

"Sunday was very unlucky at the end [with] the penalties in the Community Shield. But we have many competitions ahead, so we're going to fight for it and try to get them."

It seems the veteran has the right kind of mentality which will fit in perfectly with this squad.

Welcome aboard Adrian.