Liverpool got back to competitive action in style on Thursday after a three month hiatus disposing of Championship side Blackburn Rovers 6-0 at a empty Anfield.

It was the sort of complete team performance which would have greatly pleased Jürgen Klopp with six different players appearing on the scoresheet and no evidence of any rust or complacency.

'The new normal' is a line that has been trotted out by leaders and health experts the world over and it certainly applies to the sporting world.

From playing in a designated hub like the NBA will do from late next month, to empty stadiums and getting used to artificial crowd noise on broadcasts, these are indeed unique times.

It is something that the manager touched on after the game:

"Yes, everything is different. The boys now go home and they didn't have a shower. It was raining before the game, so that would have been funny if there had been really hard rain and then you drive home in your own car and you didn't have a shower. 

"Our meeting was here in the boardroom. We want to have it like this [and] we can organise it differently at Anfield when we play here.

"But we have no clue how it'll be at away games and we need to create as awkward-as-possible situations just to not be surprised. 

"We want to focus completely on football and whatever happens around the games, we just take it like it is. Can we shower? 

"Yes, good. If not, no, let's drive home and do it there – all these kind of things – and that's why we want to get used to it, but it's all good so far"

Another realisation since this outbreak took hold is how important fans are to the success of a professional sporting competition.

It has led to the clubs finding novel ways to adapt and Klopp says while it is far from a desired situation, it is something that you get used to over time.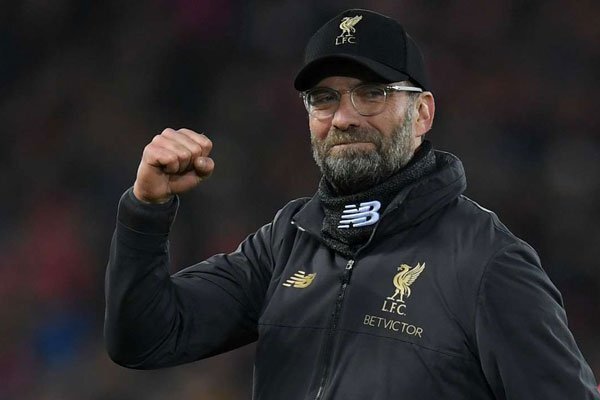 "It's different, of course. You need to get used to it, but I like it. After three times, it is completely OK.

"I thought before – and I don't have experience in this area – that it would be really awkward, but we have to create our own atmosphere in the games. We have to be lively as well, we have to be animated and stuff like this.

"Being positive about the things that have happened and so on, that's how you can create an atmosphere – and it's what we have to do as well. Apart from that, it is Anfield.

"We don't have to discuss it all the time, that it is completely different stuff without supporters. 

"Football would not be the game [it is] if there were not supporters; we only love it because of the atmosphere and all that stuff – but this is now our situation, so we have to take that, we have to use that and that's what we try."