Jürgen Klopp has once again hosed down any expectations of Liverpool being big players in the transfer market this summer.

The COVID-19 global pandemic has hit the finances of Football clubs all over the world, and in some extreme cases seen some fighting for their very existence.

While the evolution of a team is a key ingredient to progress, Liverpool are in the inevitable position of having the majority of their key players either in, or approaching their prime years.

It is a testament to how Klopp has steadily built this side and as he told the Echo, there is plenty of internal growth to come from the next generation, and anyone expecting a slew of new signings will end up disappointed. This isn't like fantasy sports when you can select whatever players you like, although if you are a fan of fantasy sports then this draftkings sportsbook promo code will be right up your street.

"COVID has of course influenced both sides with ins and outs, that is completely normal.

"It's just not likely that it will be the most busy summer in the world. But maybe at a later point in the year, if the transfer window is still open, we will know more. But this squad...look at it. 

"It is not a squad you have to change now and say 'OK, we need this position and this position'. 

"If you are a football supporter, you want a backup for him and him, even if you are completely happy with everyone, you want backups. 

"We have a lot of...we don't have a first XI, I say we have a first 16 or 17, they can all play to the same level.

"But we have to use this, 100 per cent.

"And what we want to create are our transfers internally. 

"So now, the first glimpses of Neco Williams, people may have seen him against Arsenal and said 'ah, yes, nice game, he fights a lot'. 

"But if [elite development coach] Vitor Matos was not here, he would not be here because he has helped a lot. 

"So bring the boys up. But from the other side, Curtis (Jones), Harvey (Elliott), Ki-Jana (Hoever), Sepp (van den Berg), Yasser (Larouci), Leighton (Clarkson), Jake (Cain), all these boys, they have done really well. And a few I don't know yet but I will know them."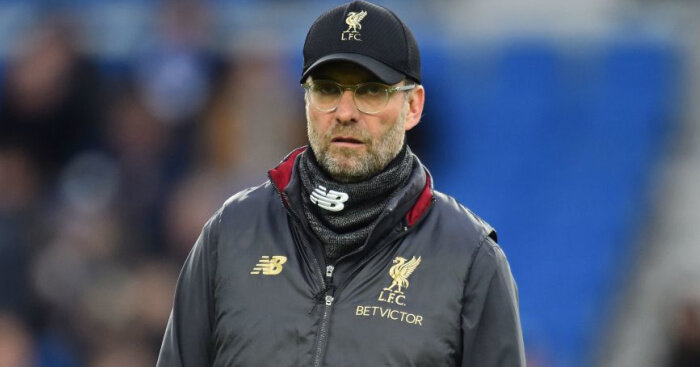 Klopp says splashing the cash is not the route to everlasting success that some may believe.

"We cannot spend millions and millions and millions because we want to or we think it is nice to do. 

"We never wanted that. We want to strengthen this squad and this squad is strong. 

"The problem with a strong squad is how do you improve a strong squad on the transfer market?

"It works with money, obviously, that is possible. But it never works only with money. You have to be creative and we try to be creative. 

"We try to find solutions internally.
"And there is still a lot to come. We have three or four players who can make big, big steps. 

"All players can make steps and that is the pressure we make as well, internally. 

So while the links to players such as Kylian Mbappe, Kalidou Koulibaly and Jadon Sancho still continue to fill column inches the man that knows best is pretty content with how things currently stand.

And when you have led the team to Premier and Champions League glory in the last 12 months, life is pretty good.