Jurgen Klopp has all but closed the door on any more incoming players during the summer transfer window.
The Reds did their transfer dealing in a efficient fashion bringing in Darwin Nunez, Calvin Ramsey and Fabio Carvalho.
There has been a fair bit of speculation linking the club to a number of midfielders but it has come to nothing with the manager saying on a number of occasions he is more than happy with the contingent that he has in that part of the pitch.
And speaking to Sky Sports with the new season just a fortnight away, Klopp has confirmed that that is still the case.
"Unless we have injuries or player sales no, we have our squad. Hopefully, there won't be any so Liverpool supporters can focus on other things.
There has been discussion about who may be following Sadio Mane and Taki Minamino out the exit door but Klopp was keeping his cards very close to his chest in that regard.
"I don't talk about these things you know that. Look at the results, not the process - don't forget!"
However, the manager has been casting an eye on what Liverpool's rivals have been doing in the summer transfer window and he says no matter how good you may be, it is important to freshen things up and keep the squad on their toes.
"It was clear before that Tottenham were going in the right direction last season with their signings. Man City haven't just brought in players, they've given two to Arsenal and one to Chelsea.
"We're in a similar situation where you can't always go with the same team. You need fresh blood and fresh legs. City are in a similar situation to us and we did it in a similar way. In the end, they will all have fantastic football players like we will. It's the question of who makes the most of it."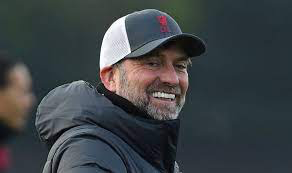 Despite Liverpool making three finals and pushing Man City all the way until the final few minutes of the League season, Klopp takes nothing for granted in Football and he has set a modest goal to tick off first and foremost.
"The main target in this league first and foremost always is to qualify for the Champions League which is really difficult enough already.
"When you reach that, and then there's still time to compete for the title, you do that. When you've qualified for it four, five years in a row people may not appreciate that anymore but it will be a massive fight for the Champions League places.
"Everyone wants to win the Premier League but I have no idea who will make the race. We're looking to play the best possible season for us and we're really looking forward to it."
While everyone associated with the club would have loved to have had a clean sweep of silverware last season, you get a sense that Klopp does not have regrets or focus on what has occurred in the past.
"It ended how we liked it - it ended with a parade. We would've loved to celebrate even more. If there's anything good about losing is that there's always the next day.
"If you're smart enough, you can pick up information about your defeat in order to do better and that's the plan. There was obvious disappointment in losing but I was over it pretty quickly.
"The parade helped me massively and let's try it again. Nothing would be different had we won the league or the Champions League. I'd still be sat here wearing the same shirt and the same shorts. We'll try to use it and analyse it in the right way."