Jurgen Klopp is keeping a lid on expectations after Liverpool moved nine points ahead of main title rival Man City with a 3-1 victory at Anfield on Sunday.

The Reds once again took everything in their stride on a big occasion quickly going out to a 2-0 lead within 15 minutes after a thunderbolt of a strike by Fabinho and a wonderful sweeping move involving both full-backs and finished off by Mo Salah.

The visitors were clearly furious when a penalty claim for handball by Trent Alexander-Arnold was turned down by Michael Oliver and dismissed by VAR, but they managed but they put that behind them and kept the Liverpool defence on their toes.
However, Sergio Aguero was missing his usual clinical touch in front of goal as his Anfield hoodoo continued.

The captivating first half did not let up in the second 45 minutes and a inch-perfect Jordan Henderson cross for Sadio Mane which went along a long way to sealing the three points.

Once again City were chasing the game and grabbed a lifeline through Bernardo Silva with just under 15 minuted left but the defence stood strong and were able to see the game out.

Speaking after the game, the manager was quick to keep focus on the present moment and not looking too far ahead.

ESPN reported Klopp as saying:

"We don't feel the pressure, to be 100 percent honest.
"Where is the pressure? Look, the things will come up now, we know that, and if you are with us you say, 'Wow, nine points.' 

"There is a long way to go and lose here a point, lose there a point and stuff like this, what will probably happen. Other people 100 percent said already from now on Liverpool can only lose it, but that's a very negative approach.

"You can see it like this, but we don't care. I promise you we don't care. We were today completely focused on this game and not the situation in the table or whatever, how many points we are ahead of City. 

"That's crazy. Nine points, you cannot imagine that something like this happens, but it is not important because who wants to be first in early November?

"We want to be first in May and not only in November. 

We all know that, but we don't have to say that because it is clear. 

"We just try what we can and in the end we will see what happens. 

Just like the fans watching on, Klopp was spellbound by the way that the second goal transpired.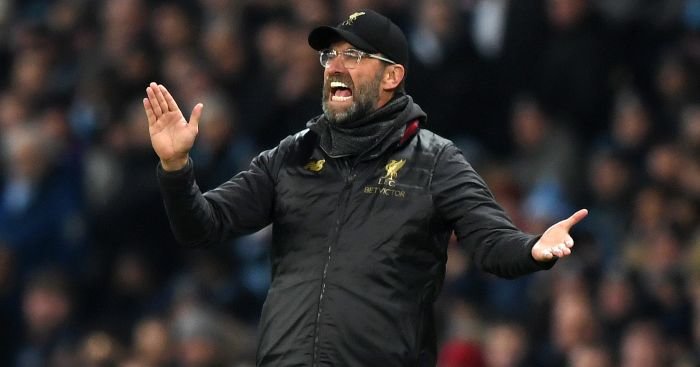 " I don't think I ever saw a goal like this.

"Probably not. A right full-back with a 60-yard pass to the left full-back; two more touches and a cross over 40 yards, 50, and a header. That's pretty special.

" It was a good moment to score a goal like this. 

"And the third goal very, very good as well, a sensational cross and Sadio in the right position. That was all good, and all around these three goals it was hardest work, and so the boys deserved these three points. Great."

The players will now disperse all over the globe for international duty before returning for a clash with Crystal Palace at Selhurst Park on the 23rd of November .