Jurgen Klopp has lavished praise on his squad after they broke another long standing record as they defeated Leicester 3-0 on Sunday evening at Anfield.
The victory saw the Reds record their 64th consecutive game without defeat at Anfield breaking a near-on 40 year record.
The list of absentees from Liverpool's lineup had been well documented over the past few weeks, but those who were fit wanted to make an emphatic statement that this team is built on a squad mentality where any individual can fill a role.
James Milner typified that with a ever professional performance at right-back filling in for Trent-Alexander-Arnold while Fabinho was fit to resume his central defence role alongside Joel Matip and did not miss a beat.
The last time Liverpool had such a imposing record at home, it was ended by the Foxes in January of 1981, but from the moment they strode onto the hallowed Anfield turf, the intent was clear and there only looked to be one winner.
Klopp who has overseen this remarkable era spoke with real pride over what his side achieved as the Mirror reported.
There will be a moment in the future when I think back on the record and hopefully it will not be the number 64 but more. It is incredible, absolutely incredible, but it is all about the boys.
"It is difficult to set records at this club because our fathers and grandfathers were obviously pretty good."
"When you think about how tight a lot of the games were the boys had to dig in and that shows their incredible character.
"We really enjoy playing here, it is our ground, our home and everything feels like home even when then the people aren't here - which is absolutely bullshit.
Jonny Evans opened the scoring by heading into his own net and that was soon doubled when Andy Robertson delivered an exquisite ball to Diogo Jota who produced a deft header to continue his outstanding start to his Liverpool career by creating his own piece of history.
The 23 year-old Portuguese forward became the first Liverpool player to score in his first four league games.
But arguably the feel good moment of the contest came towards the end when Roberto Firmino scored his second goal of the season.The tireless No 9 has come in for increased scrutiny over the last few months for his lack of goals as well as his general impact.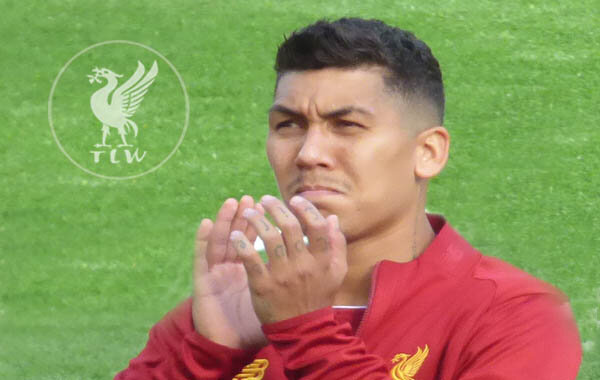 Despite the clear lack of confidence in his play, Klopp has been a staunch defender of the Brazilian and said his performance against the Foxes showed why he is so important.
"What people say about him is just ridiculous, it's just because they don't have anything else to talk about. He played outstanding again."