A defiant Jurgen Klopp believes his team has plenty of improvement left in them as the wait for an elusive Premier League title goes on for another season.

A 2-0 win against Wolves at Anfield on Sunday was not enough for the Reds to raise the league trophy as Man City overcame a 1-0 deficit to comfortably defeat Brighton 4-1 and win their second consecutive title.

The manager took a pragmatic approach to what went occurred on the last day of the season, and said his side will have to dust themselves off and be ready to go again come August as he knows City will be a formidable hurdle to overcome once again.

The Liverpool Echo reported Klopp as saying:

"That was the season we played and next season we will play a different season, that's clear already.
 
"As long as City are around with the quality that they have and the financial power and all that stuff, it's not that any other team will pass them easily. That's clear.

"We need to be very, very close to perfection to win the Premier League, as long as this is the case.

However Klopp knows first hand the improvement his side has made this season and is aware that they have plenty more to give.

The German also gave a non too subtle clip at those in the football community who revelled in the fact that Liverpool were runners-up yet again.

"We made unbelievably big steps and I really expect more to come, that's the truth.

"What that means in the end, I don't know. But if you see whatever happens to you in life as the only chance you ever had, then I feel a bit for you, to be honest.

"There's a lot to come, a lot of years, it's all about you and what you do with it, and that's what we do with it.

"People will tell us it's 30 years or whatever (since Liverpool won the league) but they have bigger problems, to be honest, those other clubs."

It was a unusual atmosphere at Anfield with the fans keeping one eye on what was transpiring on the pitch and the other on what was happening at the Amex stadium.

Klopp said the emotional rollercoaster affected his side for a period of time.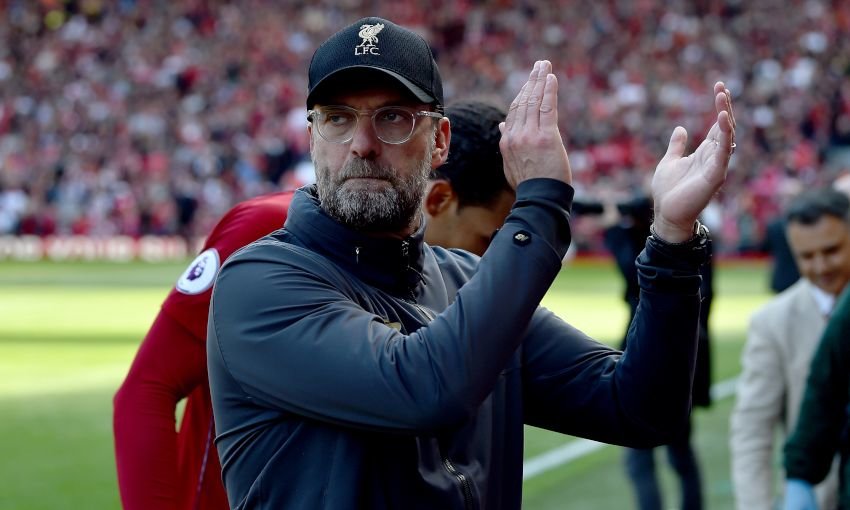 "It's difficult to prepare a team for a situation like that, to say 'if we score and Brighton score, stay calm'.

"How can you know how a crowd will react exactly like that?

"(The Brighton goal) was a little boost obviously in a very good atmosphere, it was like going nuts. Then it was difficult. You could see it.

"Wolves used it in that situation. Until then we were really there, we controlled the game, scored the goal, everything was fine. Wolves didn't really get at us.

"But then 1-0 Brighton opened the door for Wolves a little bit and then it calmed down and it was clear when the atmosphere was not that ecstatic any more that something happened at Brighton which we didn't like.

Klopp was thrilled with his the ability of his side to refocus their energy on the game and defeat a very difficult opponent.

"The performance today was another important thing in very difficult circumstances, they won against a very strong Wolverhampton side, 2-0, and it's impressive again."