It has been a moment that has played on the mind of many individuals associated with the club for the best part of five years, but Jurgen Klopp has said the victory over Chelsea on Sunday has put 'the slip' to bed once and for all.

The manager was asked a series of questions at his pre-match press conference on Friday about the moment in 2014 against the same opposition which was so pivotal in deciding the title that season.

But Klopp maintained it had never crossed his mind until the questions were to put to him.

Add to the fact that the German was not even at the club at the time and this is a whole new group of players.
So in reality,  the issue was not really relatable to this present situation.

However, when a none too dissimilar moment occurred in the last ten minutes of the game, unpleasant memories would have come flooding back.

On this occasion, it was Andy Robertson who lost his footing in the middle part of the pitch, but thankfully unlike Steven Gerrard's misfortune in 2014, there was sufficient defensive cover, plus the fact that the Reds had a two goal buffer.

The moment was not lost on Jurgen Klopp after the match with  ESPN reporting the manager as saying:

"At this point, we can finally close the slipping book -- Robbo slipped and nothing happened, so it's not a Liverpool thing," . "Done. All good"

The match against the West London outfit was always going to be a stern test of their title credentials as the Blues were fighting for a top four position.

The first 45 minutes was a tense affair and while the Reds controlled the tempo, they could not find a way to open the door to the Chelsea defence.

It needed a piece of guile and some brilliance to make the difference.

Cometh the moment, cometh the duo as Sadio Mane and Mo Salah struck within the space of three minutes to send a already heaving Anfield into absolute raptures.

The playmaking renaissance of Jordan Henderson continued as he produced a pin-point cross onto the head of Mane who finished from close range, and then Salah displayed a piece of brilliance that only a very few players can produce with a screamer from 25 yards that left Kepa grasping at thin air in the Chelsea goal.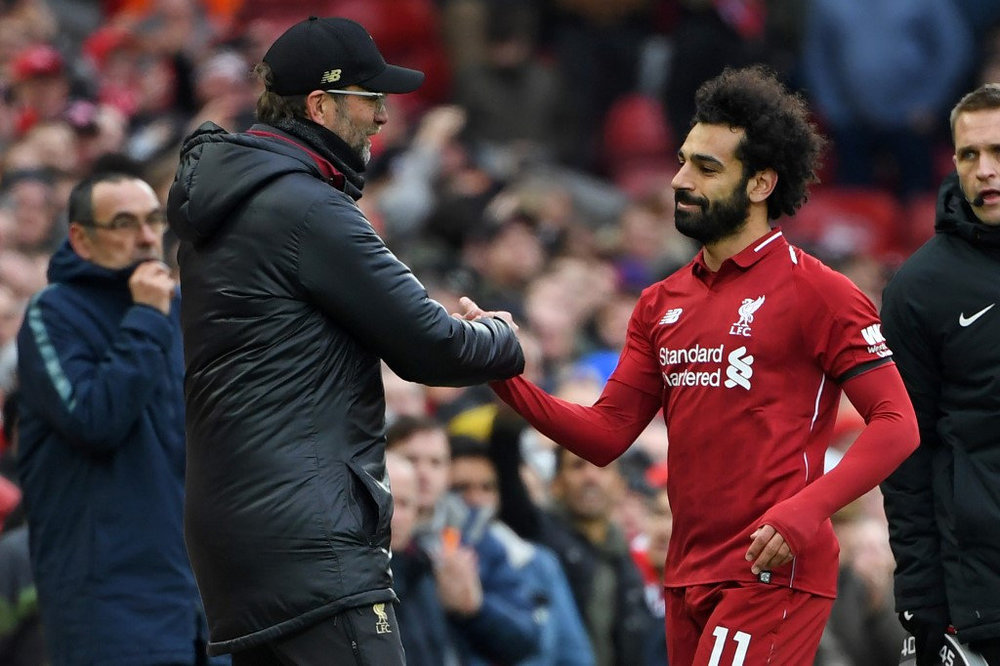 Klopp said he was lost for words after the stunning strike.

"It blew me away.

"I was really happy. I saw it really well; maybe I saw it first the ball would go in. It was a really, really outstanding finish. And I don't want to minimise that but I loved the first goal exactly the same.

"It immediately reminded me of the 4-3 against Borussia Dortmund, only Hendo [Jordan Henderson] instead of Millie [James Milner] and Sadio instead of Dejan [Lovren], but a similar situation with this wonderful cross in that area and really good team play.

"The performance was really good, but to really make it happen you need the goals and we got them, all good."

Klopp was also in awe of another tremendous Anfield atmosphere which was mixed with a touch of poignancy after the death of club legend Tommy Smith on Friday and the 30th Anniversary of the Hillsborough tragedy on Monday.

It was a win against a team who had no fears of coming to Anfield, having not tasted defeat on the ground for seven years.

"I am so proud of what the boys did, and I loved, loved, loved the atmosphere -- it was outstanding what the people did. You could feel it, they are all on their toes, so let's try to do that seven more times and then we see what we get for it."

Klopp said the focus of his team is not on title rival Man City and they will only focus on what they can control.

"The biggest challenge for us is always facing the world outside -- you [journalists] and other people -- because we don't think like that.

"They [City] win [against Crystal Palace] and [did it] ask a question for us? If we think about them, yes, and if we don't think about them, no. We play our game."

What we want to do is collect as many points as possible, really -- 85 points, four games to play, that means [we can get] 97.

"Good, let's try. Let's try that. If that's enough, perfect, and if not, we cannot change it."