Jurgen Klopp admits he is proud of his teams' achievements in consistently getting themselves to the final stages of major competitions this season and is hoping they get rewarded for their efforts in the weeks ahead.
The Reds meet their current day nemesis Man City for the second time in six days in another high stakes encounter, this team being the FA Cup semi-final at Wembley stadium.
While Liverpool have become accustomed to winning silverware under the German, this week saw the club achieve another piece of club history.
After the win against Benfica, they have now qualified for all three semi finals of the major cup competitions in the one season (League Cup, FA Cup and Champions League.)
While at first adding a bit of humour to the idea of celebrating semi-final qualification, Klopp said (per the Echo) that the achievement in its own right it is remarkable and another demonstration of consistency.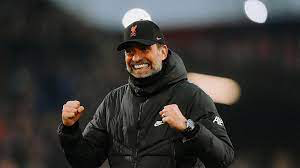 "Imagine if we had done the same for five years, huh? That would be great…three semi-finals and winning nothing nothing. The world is not ready for this kind of success! 
"No, it's true (we have written history). This specific thing, nobody did it in this club. I'm really happy for the boys. This club it is so difficult to do something that our fathers and grandfathers didn't do already. So it is really special."
The question is often raised in general media discussion and to the manager at press conferences if the team can seemingly do the impossible and win all four major trophies on offer for this campaign.
It is a feat that Klopp says does not bear thinking about, and in a way to ease the burden, he has set a modest goal for his players to achieve.
"We don't think about the quadruple. Imagine if I was to sit here and you would not ask me about it, but I would just constantly start referring to the quadruple - if I did that you would think I was completely mad." 
"In the year that we got to the Champions League final and won that (in 2019), we didn't have the squad size but we came through. We didn't become (league) champions because of 11mm or whatever. We carried on in the Champions League. 
"Imagine that? It is always intense.
"This year is especially intense but it is enjoyable and exciting. Is it likely that we win the four competitions? No. Three competitions? No. One more? Hopefully. That would be nice."