Jurgen Klopp says that he and his players will block out all the outside noise and pre-match predictions and focus purely on the ninety minutes of Football against Man City on Sunday.

The manager has heard the catch-phrases "must win" and "must not lose" but he is not one to get swept up in all the emotion of the contest.

The Official site (via Sky Sports) reported Klopp as saying:

"For me, it's a 100 per cent want-to-win game, 100 per cent with all I have. 'Must win', I never understood because that doesn't change the chances. 

"For us, as a team, to prepare a game like this, you have to do the right things again and again and again. 

"So knowing everything in the game, being brave, playing football, defending for your lives, all that stuff.

"Around has not a real effect on us, that's how it is. I can imagine it's the whole week [with] how the whole world is talking about we must not lose, I think I heard, and they must win or something like that. I don't really care.

"We want to win and we try everything to make that happen, which is difficult enough. 

"Then after that we will see how the situation is and use that situation. If it's more positive than now or less positive than now, that's how it is. The season will not stop after this.

"But we know that it's a big one.
"The whole world is watching the game, I would 100 per cent, everybody I know will, so it's a massive one. I'm really looking forward to it, but the discussions around I'm not part of."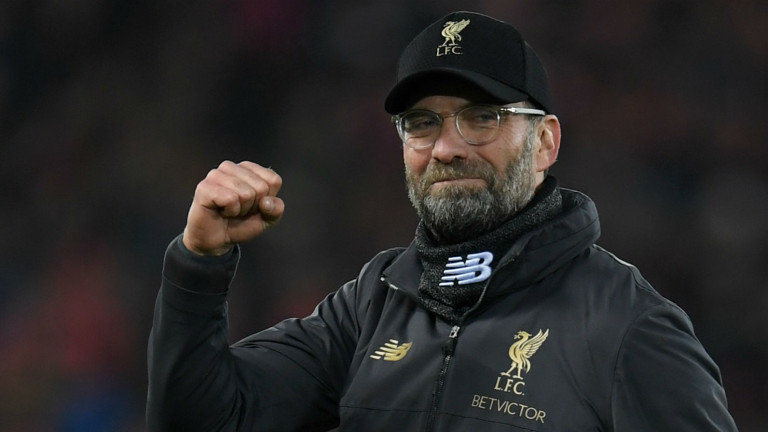 Klopp also discussed the respect that he has for Man City but cited last years clash at Anfield as a example of how far his side has come.

"In the past couple of years we both gained a lot of respect for each other.

"Not that I never had respect for Manchester City or Pep Guardiola teams, I had and I had to have.

"But last year's performance of City at Liverpool was probably the biggest show of respect that I ever got, one of my teams ever got, that's how it is. 

"They played different to what they usually do, that's true.

"But that's football and we all have to make a plan for one game - and in this specific case a game against one of the best sides in the world, if not the best. 

"That's really exciting and that's a job I really like, to think about what we can do, what we have to do.

"We play at home and even there the game we lost,  - people should not forget - for 11 millimetres or whatever that the ball was not in. Otherwise it's another draw and I think they would have been deserved."

The German expects a further fascinating chapter of this rivalry to continue on Sunday.

"They are tight games, that's how it is when high-quality teams face each other. I expect a tight game.
"How it will exactly be? I don't know."