Jurgen Klopp has had his say regarding the decision to keep the FA Cup semi final tie with Man City at Wembley Stadium despite no trains running from the North West to London on the Easter weekend due to engineering works taking place.
The decision to not move the fixture to a more suitable location for fans of both clubs under those circumstances has been met with predictable uproar and the Mayors of both cities and Politicians have also got involved.
Despite the backlash, the FA has remained unmoved and dug their heels in but speaking at his pre-match press conference ahead of the Watford clash, it is a decision that has the Liverpool manager completely bewildered as the Echo reported.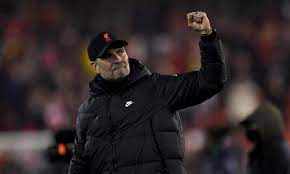 "(It makes) absolutely no sense for supporters to be asked to trek across the country without the help of rail services on a Bank Holiday weekend.
"It is one of the most ridiculous stories I have ever heard," Klopp said. "I heard that they knew about the works for 18 months and I'm not sure what the FA thought; that no club from the north west could be part of the semi-finals?
"I really can't believe that things like this can happen with all of the information you have out there. I heard now that the FA or whoever are putting some coaches on the road. What is it, usually four-and-a-half-hours to London?
"It will probably then be 12 with both sets of supporters coming from the same direction. It makes absolutely no sense. Great decision.
While the Governing body has looked to calm the waters by putting on extra buses to make the trip down south, once again it looks a reactive move rather than a common sense one.
Klopp said more dialogue and sensible solutions were required in this situation and once again the fans are the forgotten party.
"I'm not sure when they had to decide when the semi-finals would be but I think there is another weekend between the Champions League games [they could have chosen].
"It would have been our City game. That would have been funny, moving the City game for a City game, but at least on that weekend all fans could have gone to Wembley without making it more difficult for them.
"How I know it, our people, they will find a way, but I'm just not happy that somebody made it so complicated. It should be easier to see your football team in a semi-final than the way they have chosen."