Jurgen Klopp has looked to rally his squad after a 1-1 draw against Tottenham that has put a dent in their title hopes.
The fixture against the North London outfit always looked to be the most difficult in the title run-in and so it proved as Antonio Conte's team proved a very resolute outfit and took the lead through Son-Heung-Min before the ever-lively Luis Diaz equalised with a deflected strike 16 minutes from time.
As ever, the Reds kept pressing for the winner which would have piled on the pressure on City ahead of their fixture today, but try as they may it wasn't to be.
It is a remarkable stat of how good Liverpool have had to be to keep pace with City, the dropped points was only the third time they have done so in 16 league games in this calendar year.
Speaking after the encounter (per the Official site), Klopp said that the disappointment was evident within the playing group but emphasised that one point could come in very handy.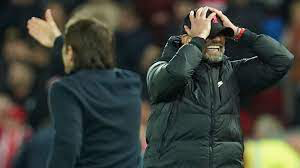 "It is an important point because we have one point more than before the game, so that's how it is. But we all know the situation. We are now top of the table. If you ask me, my favourite situation, it just stays like this with the same points tally, and City and us, we lose all the rest of the games in the Premier League and it stays like this. 
"That would be great, but we all know it will not happen. So in this moment, we are disappointed. The boys are more disappointed than I am – it might be because of my age, because I saw pretty much everything already in my life.
"But we will go again. There were so many good things tonight in a situation like that. The counter-press we played today, you can record it and sell this stuff, it's unbelievable. 
"I am so proud of that but, in the end, how I said, in the little moments, a little bit better decision-making... it's easy for me to say because I don't run and I didn't run four days ago, but we all know the boys are able to do that and then we could have won. 
'But, of course, we know we could've lost as well because they are obviously insane in their counter-attacking. That's what they want to do. I saw a lot of the things we want to do but not the result we wished for."
Klopp knows as much as anyone how important keeping your focus is at this stage of the season, and therefore was not interested in what City do in their next game, more so how his own players put this setback in the back of their minds with Villa quickly on the horizon.
And in usual fashion the manager wanted to put a positive spin on life in general.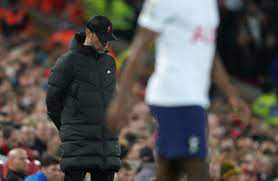 "Look, I would love to sit here and say, 'Yes, City will drop points.' The only problem is I can't see it. This is the problem. I would wish I would think differently about it, it's just I can't see it. 
"My problem in the moment is not how City smashes Newcastle tomorrow. My problem is that we play on Tuesday against Aston Villa.
"We will try to prepare as good as possible – as we always do – and try to be ready for Aston Villa. Villa Park, oh my God, that will be tough as well, but we will give it a try.
"So the boys are absolutely in the mood they should be now – very disappointed. That's fine. But from tomorrow on, I heard the spring is coming to England, so maybe we can use the weather a little bit for being in a good mood and we will try."